Flowers are exquisitely beautiful and naturally perfumed, making them the perfect symbol for budding romance. Everyone loves flowers.
Well, almost everyone.
But guys, if a girl says she doesn't like to receive flowers for her birthday or Valentine's Day, buy her flowers anyway!
And then there are flowers that even seem to know that they're beautiful and have a self-defense mechanism built in, resulting in famous songs like Poison's Every Rose Has Its Thorn.
And while they may last longer if you put cut flowers in a vase with water, they don't last forever.
This has long been used as a symbol of the transience or ephemeral quality of youth, beauty, and even life itself. You should enjoy every moment before nature takes its course.
And the kids in Japan famously get a day off of school to see the cherry blossoms when they are in bloom each year because they'll soon be gone.
But of course, this is all ancient history and flowers have been overused in art, poetry, and music.
This is especially true for poetry; I can't think of many things that are less exciting and creative than a new poem about a flower.
And this applies to music as well.
If you write a song about flowers, it better be an amazing song because there's no middle ground here. It will either be incredible or absolute trash.
So if you're looking forward to the first day of Spring and in the mood for a song about flowers, I consider these to be some of the best.
1. Desert Rose – Sting featuring Cheb Mami
I'm ashamed to say that I'd forgotten how awesome this track is and I'm thrilled to rediscover it.
Because I'm a sucker for Middle Eastern, Northern African, and Indian music and this song really scratches that itch.
While Sting provides the lyrics, Cheb Mami sings in Algerian Arabic with a mix of what I think are lyrics and vocalizations.
But the English lyrics deal with finding beauty (a beautiful woman that is) amid the arid and harsh environment of the desert.
And a desert rose is a real thing. It isn't a specific flower but it is a common name for flowers that grow where they logically shouldn't.
While Sting says the song is about (lost) love, the references to rare perfume and sweet intoxication make me suspect that he is confusing lust with love.
Whatever the case may be, I'm sure glad that this song exists.
Written by: Sting and Cheb Mami
Year Released: 1999
Album: Brand New Day
2. When I Was Your Man – Bruno Mars
Well Bruno lost his girl or at least he pretends to in this song and begins pondering what he could have done differently to alter the outcome.
And at the top of the list is "I should've bought you flowers".
Maybe she was the most important thing in his life but women can't read men's minds and outward signs can mean a lot in a relationship.
In general, he realizes that he should have been more receptive and affectionate, holding her hand and taking her out to parties more often.
But being very mature about the whole thing, the character in the song realizes that mistakes were made on his part and isn't bitter about the breakup.
In fact, he wishes his ex-lover good luck in the future, singing that he hopes she will find a man who does all of the things that will make her life complete.
Written by: Bruno Mars, Philip Lawrence, Ari Levine, and Andrew Wyatt
Year Released: 2012
Album: Unorthodox Jukebox
3. Carnation – The Jam
British Mod Rockers The Jam want us all to know that they aren't nice young gentlemen even if they wear suits and look like businessmen.
And to great effect, a fresh carnation flower is chosen to illustrate this point saying "I would only crush its tender petals".
The song is basically a list of how the singer Paul Weller's tortured soul can ruin everything and every situation.
But it's more than that because the song ends by saying that these self-destructive urges are really just your own reflection in the mirror.
Well, I'm tempted to say "speak for yourself Paul" but I admit that it would be naive to pretend that we all don't have unsavory aspects to our personalities.
And I think the trick is to find a way to deal with these traits instead of letting them get the best of us or fester beneath the surface.
Written by: Paul Weller
Year Released: 1982
Album: The Gift
4. The Days of Wine and Roses – Frank Sinatra
Taking the title out of an old poem, this song is another lesson that we all need to be reminded of sometimes as we get caught up in the whirlwind of life.
This is a classic song and it has been sung by many famous entertainers such as Perry Como, Ella Fitzgerald, and Shirley Bassey, but I chose this one simply because I'm a fan of Frank's style.
If you're wondering what exactly the "days of wine and roses" are, there are several possible interpretations: youth and health, the thrill of a marriage engagement, a honeymoon, etc.
And something that all of these things have in common is that they don't last long: "a closing door, a door marked "nevermore" that wasn't there before".
But this song is over 50 years old and not as many people follow the old pattern of graduating from school, getting a decent job, and then getting married these days.
That doesn't mean that you can't take a lesson from this song and appreciate what you have.
You don't have to be young or newly married. And you don't even have to enjoy wine and roses either.
But sometimes you need to turn off the TV, social media, or whatever your favorite time waster is and live a little.
Your "wine and roses" might be enjoying a dark roast coffee and a good novel at a local cafe, or drinking beer and playing poker with a group of friends
Just make an effort to use your time wisely so you don't end up with regrets later on.
Written by: Henry Mancini and Johnny Mercer
Year Released: 1964
Album: Sinatra Sings Days of Wine and Roses, Moon River, and Other Academy Award Winners
5. Dandelion – The Rolling Stones
This song probably isn't what you would normally expect from the Rolling Stones and it isn't very well known compared to their big hits.
It sounds much more psychedelic than most of their songs and maybe that's because John Lennon and Paul McCartney did backup singing on it.
The song also differs from other songs about flowers because it deals with a plant that many people consider a downright nuisance and spend loads of time and money trying to eradicate from their lawns.
But what is the song about?
Some people think this song is about cocaine (dandy lines) or is simply about children's games like making a wish when you blow a dandelion's petals away.
Or the combination of references, contrasting rich vs. poor men, and giving a woman a dandelion flower to see if she laughs or cries could mean trying to find a woman who loves you and not your bank account.
Of course, it could just have been that they needed a quick B-side for a single, and "flower power" and the Hippie movement was in full swing at the time.
Written by: Mick Jagger and Keith Richards
Year Released: 1967
Album: B-side of We Love You (UK single)
22 More Great Songs About Flowers
| | |
| --- | --- |
| Title | Artist |
| Kiss from a Rose | Seal |
| Yellow Rose of Texas | Lane Brody and Johnny Lee |
| Tip Toe Thru' the Tulips with Me | Tiny Tim |
| Lily of the West | Bob Dylan |
| You Don't Bring Me Flowers | Barbra & Neil |
| Every Rose Has Its Thorn | Poison |
| Bed of Roses | Bon Jovi |
| Everything's Coming Up Roses | Ethel Merman |
| Dead Flowers | Miranda Lambert |
| Dead Flowers | The Rolling Stones |
| Supermarket Flowers | Ed Sheeran |
| Build Me Up Buttercup | The Foundations |
| The Days of Swine & Roses | My Life with the Thrill Kill Kult |
| Black Rose | Eric Clapton |
| A Dozen Roses and a Six-Pack | Cole Swindell |
| A Rose By Any Name | Blondie |
| Flowers in December | Mazzy Star |
| Cherry Blossom Girl | Air |
| Red Roses for a Blue Lady | Wayne Newton |
| Where Have All the Flowers Gone | Peter, Paul and Mary |
| Lily of the Valley | Queen |
| Hana-Subete No Hito No Kokoro Ni Hana Wo | Shoukichi Kina and Ry Cooder |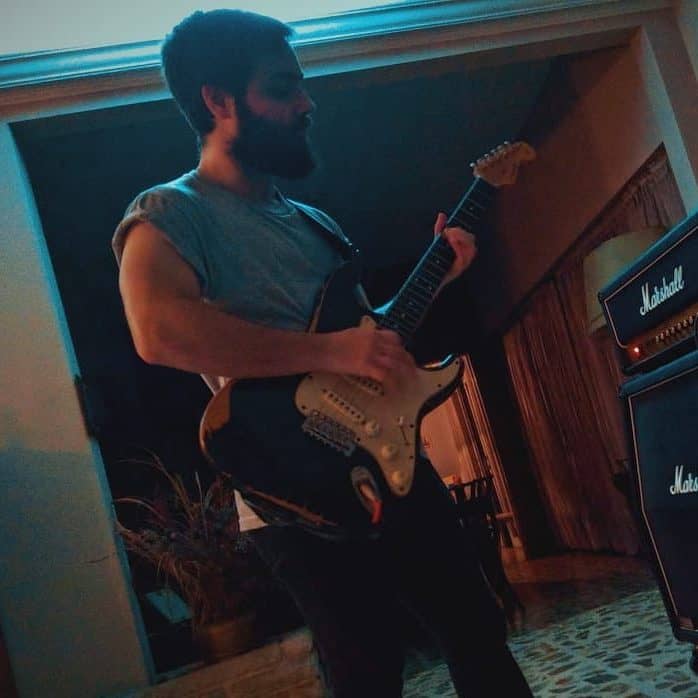 Hello there, my name is Ramiro and I've been playing guitar for almost 20 years. I'm obsessed with everything gear-related and I thought it might be worth sharing it. From guitars, pedals, amps, and synths to studio gear and production tips, I hope you find what I post here useful, and I'll try my best to keep it entertaining also.