If you are a member of a church worship team and are looking for some songs that will shine on stage, there are plenty to choose from.
In fact, if you're a new member of a church band, you may not realize just how big of an industry church praise and worship is.
Besides the wealth of songs that are written, there is a lot of musical gear that is marketed to worship bands, and depending on the size of your church, you may have one of the nicest PA systems and mixing boards in your town.
Of course, all of this stuff costs money and you and your worship team are charged with leading a concert to praise God and inspire the congregation every week!
And there are some caveats to deal with, especially if the church congregation sings along and you have new church members on a regular basis.
Basically, the songs can't be too difficult to sing (obviously they still have to be catchy), and while church members can sing in different octaves that suit them, the octave range must be pretty small.
And you can't introduce too many new songs at one time… slow and steady wins the game here.
So here are some songs that I hope will inspire you and your church on your journey with God.
And today's choices will cover some classic songs as well as songs for special occasions and age groups so there should be something for everyone!
1. Awesome God – Rich Mullins
This is a classic worship song that is perfect for people who find themselves in a dark place and need a reminder of how great God's power is.
It speaks of Adam and Eve being driven from the Garden of Eden and Jesus' crucifixion all as part of God's plan.
And a line from the chorus "He reigns from Heaven above with wisdom, power, and love" emphasizes our need for humility and faith.
Because sometimes it is hard to understand the bigger picture and our place in the world.
But giving ourselves up to God's grace can take away a lot of our worries.
This song is a great staple and has been popular for several generations with popular Contemporary Christian singer Michael W. Smith doing a version of it as well.
Written by: Rich Mullins
Year Released: 1988
Album: Winds of Heaven, Stuff of Earth
2. Hosanna – Hillsong Global Project / Brooke Fraser
There have been many songs built around the word Hosanna but this one sounds the most modern and contemporary for church worship.
The word has different meanings in the Jewish and Christian faiths but the Christian meaning is one of praise for Jesus and God as our savior.
And according to the Bible, this word was shouted to greet Jesus as he entered Jerusalem.
So this is a perfect song to perform on Palm Sunday, which celebrates this triumphant event in the life of Jesus.
And some churches even get palm leaves for church members to wave with the music but you better talk to the leaders of your church to make sure it is okay to do that!
Written by: Brooke Fraser
Year Released: 2007
Album: All of the Above
3. King of Kings – Hillsong Worship
Hillsong is really the backbone of contemporary Worship music these days and they have earned that reputation through the quality of their music.
This triumphant song of praise gives glory to the Holy Trinity (God, Jesus, and the Holy Spirit) with inspiring instrumental backing and soaring vocals.
The lyrics celebrate Jesus' willingness to die on the cross for the redemption of humankind and the Christian faith that developed and flourished throughout the world after this ultimate sacrifice.
And while Earthly kings may have riches and power the Bible advises us to lay up treasures, not on Earth, but in Heaven where the king of kings will reign forever.
Written by: Brooke Ligertwood, Jason Ingram, and Scott LIgertwood
Year Released: 2019
Album: Awake
4. We Believe – Newsboys
This song is a testament to the power of faith in the different tenets of Christianity (from the crucifixion to the second coming of Christ) and its importance in our lives.
While it wasn't written by the Newsboys, they are credited with popularizing it and the Newsboys need some credit for their own journey too.
Although there have been many changes in the band members over the years and a move from Australia to the USA, this band has survived for almost 40 years!
And while Worship songs are usually not their focus, they have helped to attract youth to the Christian church from all over the world with their blend of Rock and Pop songs that appeal to teenagers.
Written by: Travis Ryan, Matt Hooper, and Richie Fike
Year Released: 2013
Album: Restart
5. Jesus Freak – DC Talk
If your church has a youth group ministry and you want to get them involved in the worship team or schedule a special Sunday performance for young musicians, check out this Christian Rock song.
The lyrics deal with turning the tables on people who belittle Christians, especially teenagers, taking pride in what was meant to be a derogatory term.
DC Talk was arguably the biggest Christian group making music aimed at youth in their day. And interestingly they were originally a Rap / Hip Hop group.
But with Grunge Rock dominating in the 1990s, they decided to take a swing at putting out a Rock album and knocked it out of the park!
I mean to be able to totally switch genres and still have it sound great? That is some serious talent right there.
Anyway, this song and the album of the same name were a smash hit and though DC Talk hasn't been putting out albums recently, one of the trio is actually the singer for the Newsboys now.
Written by: Mark Heimermann and Toby McKeehan
Year Released: 1995
Album: Jesus Freak
6. Here I Am to Worship – Hillsong Worship version
The importance of humility when giving glory to God is highlighted here in another popular Worship song.
Bowing before God and accepting His grace doesn't just have to be an act of bowing your head when you pray.
Instead, it can be a state of mind for the way you live your life, allowing your love to shine and not letting your ego dominate your thoughts.
This song's simple vocals are perfect for churches where the congregation sings along and its slow tempo makes it an excellent choice to end the praise and worship portion of your church service too!
Written by: Tim Hughes
Year Released: 2001
Album: Here I Am to Worship
7. O Holy Night – traditional (Chris Tomlin version)
The Easter Sunday and Christmas holidays are of course the two most likely Sunday services to have new guests in the congregation.
So these events are the worship band's biggest chance to shine and impress newcomers.
And to that end, I really recommend keeping things simple and choosing from traditional songs that guests will already be familiar with, especially at Christmas time.
A classic Christmas carol like O Holy Night is a perfect choice and Chris Tomlin's arrangement will work well.
This is not only a song about celebrating the birth of Christ but it also touches on our relationships among ourselves: "Truly He taught us to love one another; His law is love and his gospel is peace".
These are important words that too many of us forget as soon as we walk out of church or the holiday season is over, but we should keep these thoughts close to our hearts all the time!
Written by: Adolphe Adam and Placide Cappeau
Year Released: 2009
Album: Glory in the Highest: Christmas Songs of Worship
8. What a Beautiful Name – Travis Cottrell featuring Lily Cottrell
9. He's Got the Whole World in His Hands – Laurie London (traditional American Spiritual)
10. Amazing Grace – Judy Collins (written by John Newton)
11. Worthy Is The Lamb – Hillsong Worship
12. Open Up the Heavens – Vertical Worship
13. I Can Only Imagine – MercyMe
14. Chain Breaker – Zach Williams
15. Lead Me to the Cross – Hillsong UNITED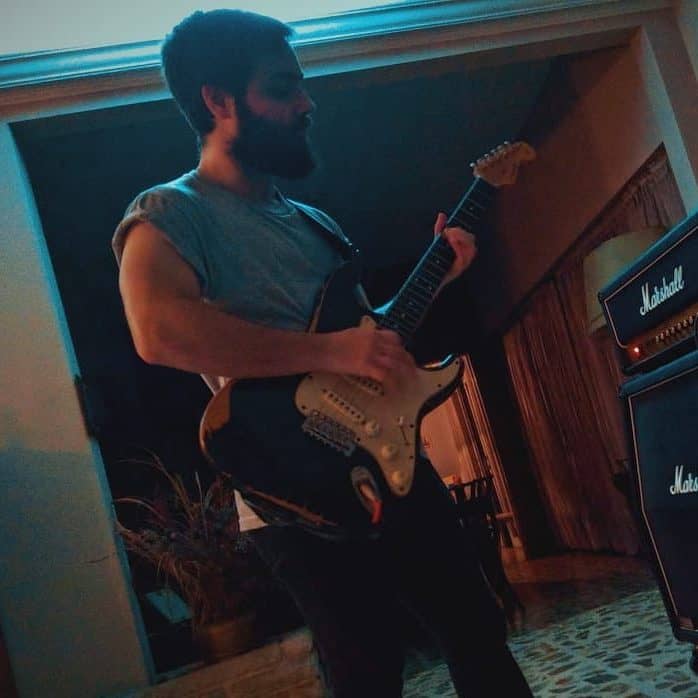 Hello there, my name is Ramiro and I've been playing guitar for almost 20 years. I'm obsessed with everything gear-related and I thought it might be worth sharing it. From guitars, pedals, amps, and synths to studio gear and production tips, I hope you find what I post here useful, and I'll try my best to keep it entertaining also.