Some say it's impossible to hear it.
Others believe that a lack of it makes a song lifeless.
Although the sound of a bass tends to pass unnoticed in certain situations, it's a fact that most songs can't live without it.
One thing we all can agree on, though, is that some songs have the greatest intros in the world, and that is thanks to the bass guitar.
If you don't believe me, it's because you haven't heard of any of these 15 best bass guitar intros ever.
1. Longview – Green Day
Green Day kicks off the list with a classic in the Eb tuning, from the 1994's album Dookie.
Bassist Mike Dirnt takes advantage of the open C# string (or the second one, to simplify things) to add more character to the notes played on the first string.
You can notice that detail at the end of the line.
Longview has sparked the curiosity of many young, enthusiastic learners who, after hearing the song, decided to pick up a bass guitar and imitate their idol.
Dirnt is a fantastic bass player that doesn't shy away; keeping simple one-note semi-fuses and semiquavers at bay most of the time, and choosing a more appealing selection of notes.
2. Sure Know Something – KISS
When thinking about Rock N' Roll bass players, the first names that come to mind are John Paul Jones, John Entwistle, Paul McCartney, and Roger Glover.
While Gene Simmons is not even close to them, it's fair to mention that he's quite an underrated bassist.
KISS has groovy, challenging, and original bass lines that simply suit the need of the song.
But even if you disagree with this opinion, I bet you'd still appreciate the mesmerizing beginning of Sure Know Something, a song from the album Dynasty.
3. Guns of Brixton – The Clash
Sometimes, the less the better.
This is the case with Guns of Brixton.
Bassist Paul Simonon composed this memorable song on its whole. He used just four bass notes, and the line has little variation whatsoever.
I strongly believe that this fact makes it an even greater bass intro.
Simplicity is not a synonym for unoriginal. On the contrary, it creates an opposite effect.
Guns of Brixton is a classic reggae-punk hybrid, made with a simple but catchy bass line. Ideal for beginners who want to learn their first song.
4. Feel Good Inc. – Gorillaz
During the 2000s, Gorillaz was a hitmaker.
Examples of that are Clint Eastwood, Dare, and the one that appears on this list.
The bass intro repeats itself during the verses with no changes at all. This is a clear example that one doesn't need to create complex pieces all the time to make something stand out.
5. Another One Bites The Dust – Queen
More often than not, bass and drums work together to "carry" the song throughout its duration.
Without them, guitars and vocals would fail to deliver the same rhythmic outcome.
Another One Bites The Dust takes this law to a higher level. After all, bass and drums don't carry the song here, they just get into the spotlight and steal the show.
6. N.I.B. – Black Sabbath
Geezer Butler is at another level. His finger-playing style has been the main influence for hundreds of metal enthusiasts since the early 70s and continues like that to this day.
N.I.B. appears in Black Sabbath's debut album and presents a 50-second-long bass intro that pulverizes everyone's mind the first time they hear it.
And the second one. And the third; and… okay, you get the idea.
7. Come Together – The Beatles
Paul McCartney is a monster.
I dare to say that hundreds of talented bass players dream to write bass lines like the ones the ex-Beatle did.
The opening track of Abbey Road is just one of those many, and it stands out even more thanks to its chill-out drum accompaniment.
8. I Want You Back – The Jackson 5
I Want You Back skyrocketed the group's career and made them reach the top of the charts.
Wilton Felder is the man behind this formidable and skillful bass intro.
9. Money – Pink Floyd
Among the endless groundbreaking things Pink Floyd has done, we include the most memorable bass intro of the 1970s decade.
Arguably, the best rock bass intro of the 20th Century, but of course, you have the last word.
10. Go Robot – Red Hot Chilli Peppers
What happens when a bass guitar is not enough? You just add another one to the mix!
Go Robot contains a catchy disco-like bass intro that only gets better thanks to the cushioned keyboard notes that slowly make their presence as the song develops.
Honorable mention to Around The World, which has a savage, distorted intro that almost makes me feel guilty to leave out.
11. Crazy Train – Ozzy Osbourne
Bassist Bob Daisy is not only in charge of this noteworthy line but also of the composition of many of Osbourne's classics during the very first albums.
Ozzy Osbourne's screaming "ALL ABOARD" and Lee Kerslake's vibraslap shaking enrich this wild intro even more.
12. Hair – Graham Central Station
Mix rock, funk, disco, and psychedelic, and you get this masterpiece, containing a dominant bass sound presented throughout its entirety.
Naturally, it's during the intro that we get the most satisfaction out of it.
13. The Red and The Black – Iron Maiden
Iron Maiden is, arguably, the greatest heavy metal band in history.
Naturally, many will disagree, and that's totally fine. One thing everyone can agree on, though, is that Steve Harris is a talented musician and songwriter.
He has been the leader of this NWOBHM band since day one and has worked on a dozen of classics for millions of fans around the world.
Classics from the Maiden catalog include The Trooper, Aces High, and The Number of The Beast.
While The Red & The Black barely got attention during the release of 2016 The Book of Souls, it's impossible not to admire the brilliance of this bass intro.
14. Everybody Dance – Chic
You can't create Disco music without a leading bass line.
However, many have created Disco music without a leading bass line intro.
Luckily, Everybody Dance didn't do that, and that's why it made it stand out from the rest.
15. Hysteria – Muse
Go to Youtube.
Type: "Top 10 bass guitar intros"
You'll discover that 4/5 videos contain Hysteria by Muse on their lists.
And rightfully so! Hysteria has a fantastic and fast-paced line that makes you want to dart into the nearest music store, buy a bass guitar, and learn to master it.
But if this song doesn't evoke that emotion, then I sincerely wish the others on this list had done it.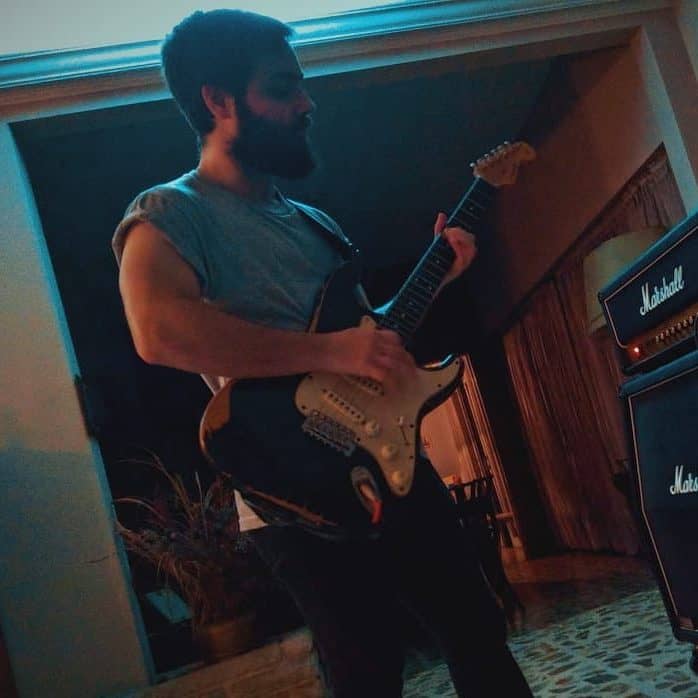 Hello there, my name is Ramiro and I've been playing guitar for almost 20 years. I'm obsessed with everything gear-related and I thought it might be worth sharing it. From guitars, pedals, amps, and synths to studio gear and production tips, I hope you find what I post here useful, and I'll try my best to keep it entertaining also.