Are you ready to discover the harmonious realm of the acoustic guitar?
Our handpicked selection of the 31 best acoustic guitar songs of all time will take you on an amazing journey to timeless melodies that have captivated audiences for generations and continue to resonate with their soul-stirring sounds.
From the haunting fingerpicked songs to the raw emotion of ballads, this compilation showcases a wide range of acoustic guitar mastery.
Immerse yourself in the rich storytelling and complex arrangements found in these songs.
Whether you're an experienced guitarist or a music enthusiast, these iconic tunes will transport you to a world where the six strings hold limitless possibilities and the power to move hearts.
So prepare to be captivated by the enchanting melodies and heartfelt lyrics of these exceptional acoustic songs.
1. Yesterday – The Beatles
To begin with, we have this iconic ballad which, interestingly enough, is the most covered song of all time.
Released in 1965 as part of their album Help!, the track explores themes of love and nostalgia.
The song tells the story of a man who has been abandoned by his lover; he goes through a difficult time and struggles to get over it.
Although the composition was written by The Beatles, Paul McCartney is the only member of The band who participated in the recording, singing, and playing guitar on this acoustic, timeless masterpiece.
2. Redemption Song – Bob Marley & The Wailers
Bob Marley is known for his profound songwriting and commitment to social justice and this introspective track is no exception.
Included in the 1980 album Uprising, this song stands for the singer's most powerful ideals: freedom and redemption.
Sadly, Redemption Song was the last single Bob released before his death.
However, the track is a significant part of his musical legacy, still reverberates around the world today, and has left a huge mark on music history.
3. Hurt – Johnny Cash
When it comes to the best acoustic songs ever, the legendary Johnny Cash couldn't be left aside.
Although the song was included in the 2002 album American IV, The Man Comes Around, it was originally written by Nine Inch Nails lead singer Trent Reznor.
The track shows some hints of self-harm and drug abuse but others believe that is about suicide.
Cash performed a touching version and made a poignant video of Hurt, and even Reznor was surprised and moved by them.
4. Pink Moon – Nick Drake
Pink Moon is a smooth, beautiful track that gives its name to Nick Drake's third and last album.
Released in 1973, the name of the song alludes to the characteristic blood-red color the moon has during eclipses, but still today, the meaning remains a mystery.
Featuring Nick's haunting vocals and gently strummed chords, the track became his most famous song.
However, it wasn't until 1999 that Pink Moon became a hit, thanks to a Volkswagen commercial.
5. Wonderwall – Oasis
Released in 1995 as part of the album What's the Story, Morning Glory?, this track quickly became one of Oasis's signature songs.
This acoustic guitar anthem explores themes of love, longing, and the complexities of relationships.
With its instantly recognizable guitar intro and memorable sing-along chorus, Wonderwall catapulted the British band to international fame and remains one of the band's most beloved and iconic tracks.
The soundtrack to the 1968 film Wonderwall, written by George Harrison, was a source of inspiration for the composition of the song
6. Babe I'm Gonna Leave You – Led Zeppelin
This is a folk song originally written in the late 1950s by Anne Bredon, a folk artist.
Babe I'm Gonna Leave You was reworked and released by Led Zeppelin in 1968 as part of their self-titled debut album.
The meaning of this popular song is quite straightforward, telling the story of a man who lets his wife know that he is about to leave her.
The track is a dynamic blend of acoustic and electric elements, showcasing the band's chops and ability to move smoothly between softer and heavier moments.
7. The Sound of Silence – Simon & Garfunkel
Released in 1966 in the album Wednesday Morning, 3 AM, this emotive acoustic ballad is one of the best-known tracks by the duo.
This song is not only a timeless classic but also what brought Simon and Garfunkel back together.
Interestingly, The Sound of Silence was not a great success when it was released, only selling around 2000 copies, leading Simon and Garfunkel to go their separate ways.
However, the record company tried to capitalize on the folk movement by adding electric instruments to the song, which resulted in a huge success that reunited the two artists.
8. Have You Ever Seen The Rain – Creedence Clearwater Revival
This introspective track is one of Creedence's most beloved and enduring.
Released in 1970 as part of their album Pendulum, the song reflects on disillusionment, uncertainty, and the cyclical nature of life's ups and downs.
9. Love of My Life – Queen
Featured on the album A Night at the Opera released in 1975, this track is a heartfelt acoustic ballad penned by Freddie Mercury.
Describing the misery of a man who has been left by his lover, the song is a tender and emotive ode to love and companionship.
Mercury's distinctive vocals accompanied by May's delicate acoustic guitar melodies perfectly transmit the painful message of the piece.
Love of My Life quickly became a fan favorite and was a staple of Queen's concerts, making it one of the band's classics.
10. Landslide – Fleetwood Mac
Released in 1975 the album Fleetwood Mac, this song explores themes of self-reflection, personal growth, and the passage of time.
Stevie Nicks revealed that she quickly penned the song while in Aspen, surrounded by mountains; possibly this is what provided the title's inspiration.
In addition, a lot of artists have covered Landslide throughout the years, making it one of Fleetwood Mac's most recognized songs.
Its enduring appeal is evidence of Nick's songwriting's timeless beauty and emotional profundity.
11. Something In The Way – Nirvana
12. Wild Horses – The Rolling Stones
13. Free Fallin' – Tom Petty
14. Nutshell – Alice In Chains
15. Road Trippin' – Red Hot Chili Peppers
16. Tears In Heaven – Eric Clapton
17. Jolene – Dolly Parton
18. California Dreamin' – The Mamas & The Papas
19. Heart Of Gold – Neil Young
20. Give a Little Bit – Supertramp
21. Better Together – Jack Johnson
22. Photograph – Ed Sheeran
23. Wish You Were Here – Pink Floyd
24. Please, Please, Please Let Me Get What I Want – The Smiths
25. The Times They Are A-Changin' – Bob Dylan
26. The Boxer – Simon And Garfunkel
27. Fake Plastic Trees – Radiohead
28. Life By The Drop – Stevie Ray Vaughan
29. More Than Words – Extreme
30. American Pie – Don McLean
31. Dust In The Wind – Kansas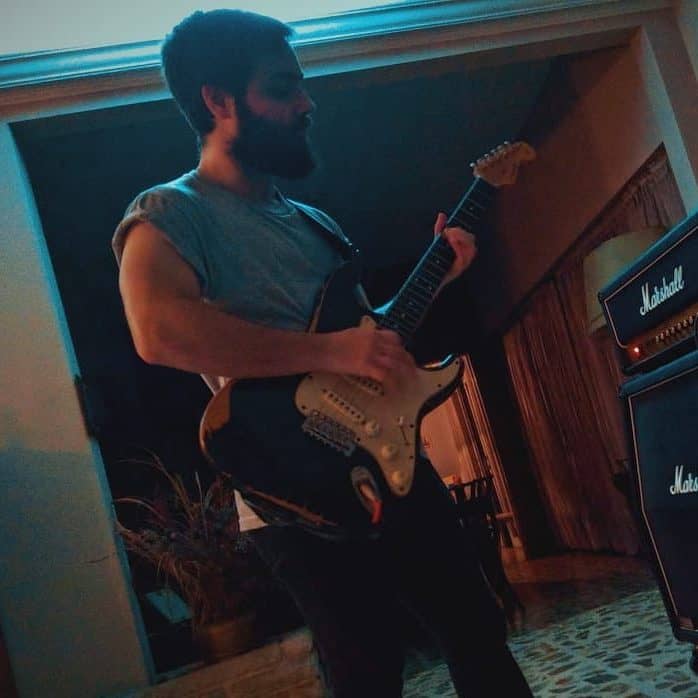 Hello there, my name is Ramiro and I've been playing guitar for almost 20 years. I'm obsessed with everything gear-related and I thought it might be worth sharing it. From guitars, pedals, amps, and synths to studio gear and production tips, I hope you find what I post here useful, and I'll try my best to keep it entertaining also.