Throughout the history of music, groundbreaking, distorted riffs and shredded solos have stood out the most.
However, the beauty and brightness of acoustic guitars made them seem like insensitive, emotionless pieces of work.
That's why we welcome every music lover and guitar enthusiast to an extraordinary compilation of the 25 best acoustic guitar intros of all time.
Prepare to embark on a captivating journey through the annals of music history as we unravel the timeless beauty and artistry behind these legendary intros.
From classic rock anthems to soul-stirring ballads and chart-topping pop hits, each selection has been carefully chosen to captivate your senses and resonate with your musical soul.
So grab your favorite six-string companion and let us immerse you in the magical world of acoustic guitar mastery.
1. Blackbird – The Beatles
Topping the list is this acoustic intro, a testament to Paul McCartney's genius as a songwriter and guitarist.
Released in 1968 as part of the iconic White Album, this delicate and intricate fingerpicked masterpiece remains an enduring symbol of hope and resilience.
Once you hear its ethereal melody featured with McCartney's soulful vocals, you will instantly recognize this gentle composition.
Inspired by the civil rights movement in the United States, McCartney wrote the song as a tribute to the struggle for racial equality and the influence of black musicians on popular music.
2. Tears in Heaven – Eric Clapton
Eric Clapton could perfectly express his feelings through this heartfelt acoustic intro.
This track bears the weight of profound emotional depth which resonates with listeners on a deeply personal level.
Originally featured on the 1992 soundtrack album Rush, this song is a masterclass in vulnerability and raw human emotion.
Clapton wrote this delicate, fingerpicked track as a way to deal with the tragic loss of his young son
3. Wish You Were Here – Pink Floyd
Released in 1975 on Pink Floyd's album of the same name, Wish You Were Here is the gateway to a sonic odyssey that captures the essence of longing and introspection.
With its unique vocals and distinctive intro, this song has become one of Pink Floyd's most recognizable tracks.
This captivating composition serves as a poignant tribute to former bandmate and guitarist Syd Barrett.
The iconic intro to Wish You Were Here was created by David Gilmour using a unique 12-string guitar tuning, making the track an indelible gem in the realm of progressive rock.
4. Angie – The Rolling Stones
When it comes to great acoustic intros, you can't go wrong with Angie.
Released in 1973 on the album Goats Head Soup, this timeless song showcases the Rolling Stones' ability to channel their rock 'n' roll energy into a captivating acoustic ballad.
Although it is believed that the song is about a romantic relationship the lead singer had with David Bowie's ex-wife named Angela, this is not the case.
The true inspiration behind the track is still a mystery, and Jagger claims that the name "Angie" was chosen at random.
5. Roundabout – Yes
Released in 1971 on the album Fragile, this progressive rock masterpiece opens with a mesmerizing acoustic guitar intro.
The intro, with its intricate picking patterns, melodic phrases, and harmonics sets the stage for the song's dynamic and ever-evolving journey, showcasing the band's virtuosity.
The complex intro to the song was actually composed by Yes guitarist Steve Howe while stranded in a hotel room with only an acoustic guitar.
Although Roundabout was a hit in its day, it has recently undergone a revival of sorts due to its use in Internet memes.
6. Civil War – Guns N' Roses
The Guns N' Roses have always been great representatives of emotive, hard-hitting ballads and Civil War is no exception.
Released in 1990 and included in the album Use Your Illusion II, the acoustic intro sets the mood for the song's powerful message, which goes on themes of war, injustice, and civil strife.
The acoustic opening, coupled with Axl Rose's mournful vocals, showcases Guns N' Roses' ability to blend raw energy with thought-provoking lyrics, making it a milestone in their discography.
Interestingly, Civil War contains a spoken-word segment in the middle, featuring a speech by civil rights activist Angela Davis.
7. More Than Words – Extreme
This timeless classic showcases the power of simplicity, with an acoustic intro that has captivated listeners around the world.
Released in 1990 as part of Extreme II: Pornograffitti, this soulful ballad creates an intimate atmosphere through delicate fingerpicking and beautiful harmonious vocals.
The song immediately became a chart-topping hit, making Extreme synonymous with acoustic prowess and setting a new standard for acoustic-driven ballads.
In addition to that, the song's success also marked a departure from their typical hard rock sound and solidified their status as accomplished musicians and songwriters.
8. Nothing Else Matters – Metallica
What can we say about this song that has not been said before?
Nothing Else Matters showcases a captivating acoustic intro that defies the band's heavy metal reputation.
Released in 1991 on their self-titled album (also known as The Black Album), this introspective ballad takes listeners on an emotional journey.
Curiously, the track was originally written by Metallica's frontman James Hetfield as a personal song, but he wasn't completely sure about it and it was almost left off the album.
However, the band recognized its potential and decided to include it, and thanks to the emotional nature of the song, it later became a fan favorite and resonates with listeners around the world.
9. More Than a Feeling – Boston
Boston opens its debut album of the same name with an instantly recognizable and irresistible acoustic intro.
Released in 1976, this classic rock anthem is a timeless representation of melodic craftsmanship.
The introductory riff sets the scene for the song's euphoric chorus, blending the catchy guitar work with the powerful vocals.
More Than a Feeling remains a staple of rock radio, leaving an ever-lasting mark on the hearts of music lovers across generations.
10. Stairway to Heaven – Led Zeppelin
The acoustic guitar intro to Stairway to Heaven is an absolute masterpiece and synonymous with the incarnation of rock greatness.
Penned by Jimmy Page and released in 1971 on the band's monumental album Led Zeppelin IV, this iconic composition, like many of Zeppelin's songs, takes the listener on an epic sonic ride.
Featuring a haunting, beautiful fingerpicked melody layered with Robert Plant's soaring vocals and epic guitar solos, this track has enchanted generations and cemented itself as an anthem of rock music.
Interestingly, guitarist Jimmy Page composed the intricate acoustic intro in a remote cottage in Wales, where the band was holed up rehearsing for their fourth album.
11. Dust In The Wind – Kansas
12. Wanted Dead or Alive – Bon Jovi
13. Crazy on You – Heart
14. Hotel California – The Eagles
15. Mama I'm Coming Home – Ozzy Osbourne
16. Fire and Rain – James Taylor
17. Fast Car – Tracy Chapman
18. Behind Blue Eyes – The Who
19. Hurt – Johnny Cash
20. Crazy Little Thing Called Love – Queen
21. Black – Pearl Jam
22. Take Me Home, Country Roads – John Denver
23. Incubus – Drive
24. Fade To Black – Metallica
25. From The Beginning – Emerson, Lake & Palmer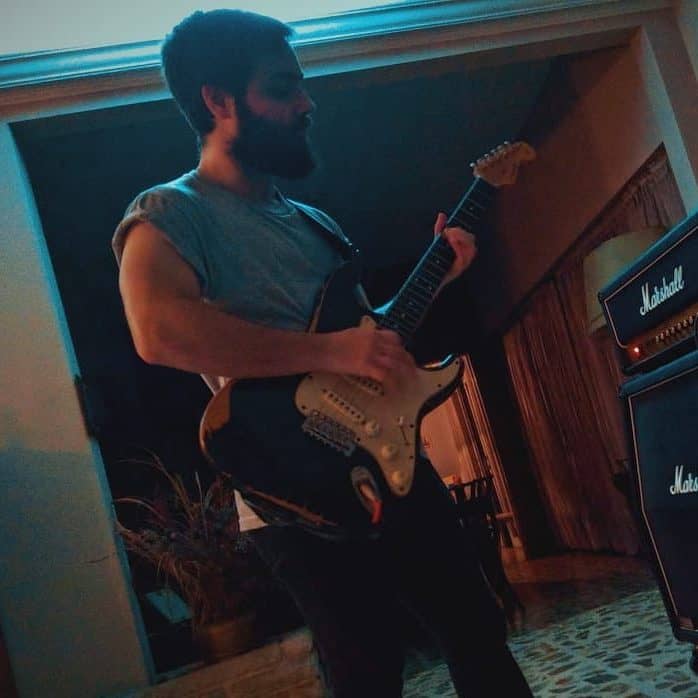 Hello there, my name is Ramiro and I've been playing guitar for almost 20 years. I'm obsessed with everything gear-related and I thought it might be worth sharing it. From guitars, pedals, amps, and synths to studio gear and production tips, I hope you find what I post here useful, and I'll try my best to keep it entertaining also.