Many people assume that Stratocasters are the most versatile and used guitars but they are forgetting about their Gibson counterpart: The Les Paul.
When it comes to jazz music, these guitars are one of the most desired due to their great adaptability and comfort.
Many jazz musicians choose these wooden pieces as their number one but some others claim that with humbuckers is not possible to achieve the vintage killer tones needed for the style.
The formers are far from being right, with the correct pickups Les Pauls can match incredibly well to jazz sound.
The pickups that work the best featuring a Les Paul are the Lollar Imperial, Lindy Fralin Pure P.A.F., and Seymour Duncan Benedetto A6. By using them you will get an amazing jazzy, creamy outcome that will sweeten everyone's ears.
Here at GearAficionado, we want to help you make the best decision so, apart from these three sets we will give you a list of the best pickups for classic jazz and fusion.
Besides, every pickup has its sound description for you to choose the one that fulfills your expectations.
My top pick
Most jazz musicians are fond of Les Paul but they come in a lot of different kinds and components.
Therefore, you will have a list with our top pick of Les Paul pickups to play jazz:
Lollar Imperial
Lindy Fralin Pure P.A.F.
Seymour Duncan Benedetto A6
Lollar Imperial
On top of the list, we have the Lollar Imperial pickups, they consist of a pair of humbuckers that provide an amazing, versatile sound.
These buckers offer a great chord voicing definition which fits perfectly to jazz.
Due to their mix clarity, balanced midrange and tight low end are one of the best available options.
These pickups offer a great frequency response because they are based on classic PAFs employed in the iconic Gibson 335 guitar.
The interesting aspect of Lollar Imperials is that they deliver excellent outcomes no matter if you play clean or distorted tones.
You can get bright, clean sounds and aggressive, overdriven ones as well.
Lindy Fralin Pure P.A.F.
In this position we find a hand-built pickup from Lindy Fralin, this artist has been an innovator and one of the most renowned boutique pickup crafters.
As it is made by hand this component offers superior quality and has been used by Carlos Santana and David Gilmour among others.
This set of pickups works wonderfully for jazzy sounds, its clean tones are crystal clear but it also provides a smooth, sharp attack plus a balanced dynamic tone.
Besides, we cannot forget about its outstanding versatility and low output tone.
The Pure PAFs are premium pickups built following the original Gibson PAF specs perfect for delivering jazz and bluesy sounds.
In addition to that, they come with a ten-year warranty on building defects.
Seymour Duncan Benedetto A6
The Benedetto A6s are perhaps one of the best jazz humbuckers out there, as we are talking about Les Pauls, they will get on really well.
That's due to they are intended for jazz guitar players so their construction aims to satisfy these musicians' expectations.
The Benedetto A6 is a set of pretty balanced pups that presents a bit stronger low and high frequencies than other Seymour Duncan models.
Moreover, its smooth, creamy, and warm tones are everything needed to achieve a jazz sound.
Best Les Paul pickups for classic jazz
Classics will always remain in people's minds and although new music genres have widely spread jazz is still in force nowadays.
Even in modern styles jazz plays its part and influences musicians' sound and feel so next you have more Les Paul pickups that will help you get this fantastic tone.
Seymour Duncan '59 Model
This pickup is incredibly versatile and it has been one of the guitarist's top picks for many years.
The Seymour Duncan '59s were created to get the vintage classic tone existing in the original PAF but employing modern materials and construction methods.
Using these humbuckers gives you a sweet, warm tone with enhanced sustain, which results in a balanced vintage tone.
In addition, the '59 Model provides improved attack clarity thanks to its boosted high-end.
This set of pickups also delivers a scooped midrange which gives you an open and smooth sound essential to achieve juicy, jazzy tones.
Due to their exceptional quality and performance, the Seymour Duncan '59s are truly sought after by loads of jazz players.
Seymour Duncan Phat Cat
For classic jazz lovers exists a stunning solution, a P90 humbucker-sized made by the famous company Seymour Duncan: The Phat Cat.
When it comes to single coil pickups noise is something inevitable but the opposite happens with this set.
This P90 is quite silent compared to the standard, they are virtually noiseless which is great for players in the search of vintage sounds without excessive hum.
Regarding their tone, they offer a well-rounded warm output in the neck position without losing that characteristic bite in the bridge pickup.
DiMarzio Vintage P90
Following the line of the P90s, we have another one but this time made by DiMarzio and, as its name evokes, presents a classic vintage sound: the DiMarzio Vintage P90.
This pickup offers the same performance as a regular P90 but with a little more output.
This pickup provides more accentuated high frequencies but without sounding sparkly.
Besides, the midrange sounds warm and delicious plus presents enhanced clarity, perfect for a good jazz guitar tone.
Best Les Paul pickups for fusion
As mentioned earlier, jazz music has influenced current guitar players but they not only adopted the foundations of the style but have also innovated through it.
The purity of the genre has been modified to create new amazing subgenres.
The fusion involves musicians mixing two or more styles altogether and as jazz is one of the music cornerstones couldn't be left aside.
If you are a Les Paul player getting into new sonic flavors here you have a list of the best pickups to play this genre.
DiMarzio Bluesbucker
The Bluesbucker looks like a regular humbucker but its sound character is nearer to a P90 pickup without leaving aside the hum-canceling option.
Besides, these pickups are built using patented Virtual Vintage and Airbucker technology.
This set is perfect to add some spicy spark to your playing and it presents great sensitivity and response to dynamics while playing chords plus provides a fat tone.
The interesting aspect about the Bluesbuckers is that they fit humbuckers cavities so they are great for players who intend to replace their buckers with P90-sounding pickups.
Moreover, they have different tonal options, you can get an open sound that resembles two single-coil pickups in Stratocasters.
That feature in combination with the canceled hum makes the Bluesbuckers quite versatile, what is more, they are pretty affordable.
Seymour Duncan Pearly Gates
This pickup delivers the sound of the original neck pickup of vintage Les Pauls mixed with hues of modern tones.
The Pearly Gates is wonderful for that classic bluesy tone but quite versatile thanks to its unique tonal variations.
The Pearly Gates are also excellent for rhythm and leads, they have an undeniable vintage flavor and are fantastic for several genres such as blues, classic rock, and of course jazz.
Their sound character is amazing, they offer more midrange while a warm, tight low end plus the neck pickup presents a great attack in high frequencies.
Gibson '57 Classic Plus
Last but not least we have this incredible pickup which consists of a slightly overwound version of the '57 Classic.
Thanks to its design offer not only added bite in the bridge position but also a smooth, creamy tone.
The Gibson '57 Classic Plus has a rich and rounded tone desired but bunches of jazz and blues guitar players.
This set of PAF pickups presents a wonderful clean sound and also achieves a groundbreaking overdriven tone.
Other things that can improve your jazz tone on a Les Paul
Solid-body guitars produce a brighter output but for this style are not the best choice, jazz is more fond of gloomy, dark bass tones rather than shiny highs.
However, we can get rich sounds in a Les Paul by choking off the tone knob, in that way you will remove the high frequencies a bit and darken the tone.
In addition to that, the neck pickup is a must to get that thick, creamy jazzy tone.
Moreover, as the three-way pickup selector existing in Les Pauls allows you to combine both neck and bridge pickups you can also tweak volume and tone pots for individual humbuckers (or P90s) to obtain that fat, tight low-end.
What is more, if your Les Paul features two buckers you can add some push-pull pots to do a split coil mod in your guitar for each pickup, or at least the neck one.
In that way, you will get the flavor of single coils which builds up the vintage tone.
Nevertheless, not everything has to do with guitar, amps, and gears, the way you play it will also affect your playing style.
Most jazz players prefer using their fingers to play, the thumb acts in the lower notes as it was in charge of the bass section while the rest of the fingers pluck strings rather the make them vibrate with the fingertips.
But that's not the only option, is also common to find guitarists who use a pick, mainly in lead sections.
Besides, there's something called a thumb pick, as its name implies it's a pick with a ring that fits the thumb, you can give it a try.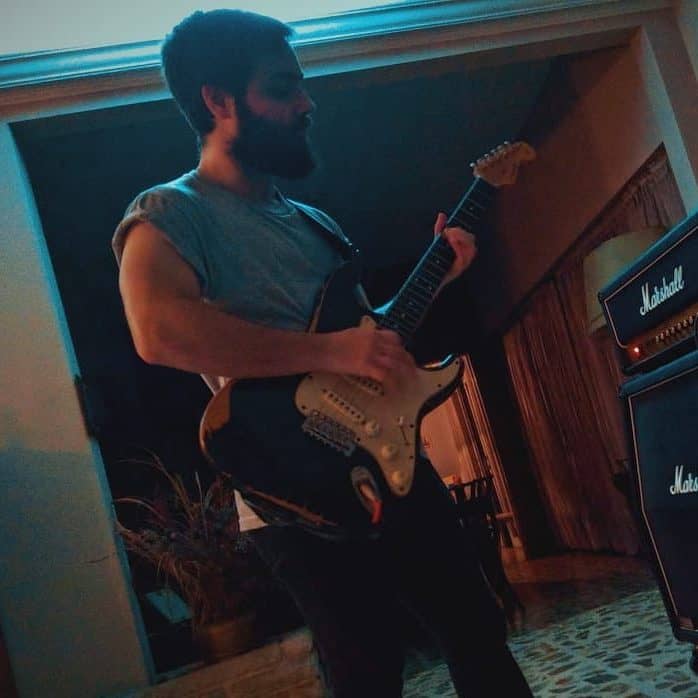 Hello there, my name is Ramiro and I've been playing guitar for almost 20 years. I'm obsessed with everything gear-related and I thought it might be worth sharing it. From guitars, pedals, amps, and synths to studio gear and production tips, I hope you find what I post here useful, and I'll try my best to keep it entertaining also.