The 80s was a crazy decade full of odd fashion, big hair, and even bigger music.
With it being what many might have called the golden age of pop music, you might be surprised to know that a lot of popular songs were one-hit wonders.
We can easily look back and think about the giants that spanned the ages, but there are a few hidden and forgotten gems, and today we'll be looking at those.
1. Come On Eileen – Dexy's Midnight Runners
It always surprises me to learn when a certain song was a one-hit wonder, and that is the case with "Come On Eileen" more than most.
Such a big hit certainly brought attention to the creators of the song, but that's mainly because they broke up in 1987 and never really reached the same popularity in subsequent attempts at restarting the band.
2. Tainted Love – Soft Cell
Marilyn Manson did a really cool cover of this song, but Soft Cell did the better cover first. This was their first and biggest hit in the US.
The band released two albums during their first run together but broke up in 1984, which seems often to be the case with bands that hit stardom too quickly sometimes.
3. Take On Me – A-ha
What a banger. It may not be the 80s anymore, with the synth keyboards and the high male falsettos, but this song still hangs around.
The song was an international hit in 1985, but did you know that it failed to top the charts in its original 1984 release version? A-ha is only a one-hit wonder in the sense that they're not internationally renowned, but they remained big in their native Norway.
4. I Want Candy – Bow Wow Wow
Bow Wow Wow's version of "I Want Candy" was never really that big, in fact, it reached only into the top 50 and just barely scraped its way in.
However, the song remained an enduring 80s hit.
5. 99 Red Balloons – Nena
It's difficult to even read the name of this song without calling to mind the nostalgic experiences of growing up with this hit playing through the house.
99 Red Balloons featured widely in media too, which you could say contributed to its success, but for the other songs on their album, none performed well outside of Europe.
6. I Ran So Far Away – A Flock Of Seagulls
Okay, I have to admit, this was my first time hearing this song and knowing the title. But upon hearing the tune, there was this instant sense of recognition. Perhaps it's the catchy feel of the song or how it's both simple and iconic.
I found myself singing the chorus back shortly after hearing it.
A Flock of Seagulls isn't technically a one-hit-wonder band, and some of their other songs outperformed this one, but many of those have been largely forgotten at this point.
I might just be stretching the meaning of one-hit wonder here, but you can thank me for it later.
7. Bette Davis Eyes – Kim Carnes
It's hard to believe that Bette Davis Eyes is a one-hit wonder, but that's mainly because Carnes isn't (or wasn't) a full-time musician.
She actually spent more time doing peripheral work in the industry, which never leads to any stardom of any sort.
However, she had this one song, which was her one moment in the spotlight.
Surprisingly she was only in her early 30s when she sang this, despite how she might sound.
8. Don't Worry, Be Happy – Bobby McFerrin
A feel-good song that is still around today. It's easy to see why this song became such a big hit. It's laid back, it's easy-going and it's a song that always lifts your spirits, no matter the occasion.
However, who's ever heard of Bobby McFerrin today?
Fun fact about the origin of the song, it was inspired by an Indian Guru's philosophy.
9. Is It A Dream – Classix Nouveaux
Considered to be a band that was part of the New Romantic scene of the new wave era, Classic Nouveaux only experienced a little success in their home country or the US.
They're mainly known for having a couple of hits in Poland, Portugal, and other countries.
The band broke up in 85' with Sal Solo trying out a solo career, but with little success overall.
Another band that got too big too fast I suppose?
10. Relax – Frankie Goes to Hollywood
Another band with many hits outside of the US, Frankie Goes to Hollywood is considered a one-hit wonder in America, because this is the only song that did well internationally for them.
These guys were furiously trying to carry pop into the future, but they might have been a bit ahead of their time for America. However, they still did fine in their homeland.
11. Obsession – Animotion
A cover song from Animotion, Obsession became popular mainly because of how often MTV played it back in the 80s.
It's another case of calling a band a one-hit wonder due to US Billboard charts, but Animotion remained relevant and well-known on their home turf long after the release of this oldie.
12. The Safety Dance – Men Without Hats
Often mistaken as an innuendo song about practicing sex safely, the safety dance was actually a response to bouncers prohibiting dancers from pogoing to 1980s new-wave music in clubs when disco music was on the decline.
13. You Spin Me Round (Like A Record) – Dead or Alive
Although we likely remember the remix of this song by Kesha and Flo Rida back in the 2000s, Dead or Alive did it first.
Funny enough, Dead or Alive had a number of big hits aside from You Spin Me Round, so technically, they're actually a two or three-hit wonder.
However, this is the curse of a band that produces a song so big that it overshadows everything else. And this is the case for this song.
14. We're Not Gonna Take It – Twisted Sister
According to the billboard hot 100 greatest one-hit wonders of all time, We're Not Gonna Take It was a hit from a one-hit-wonder band.
For those of you who know of Twisted Sister, you would know this isn't really the case.
But you'd be surprised to know that "We're not gonna take it" was their only chart-topping song.
Even though they were in the sweet spot of the rock n roll era when a lot of rock was topping the charts, Twisted Sister never appealed to the masses, and this makes them a one-hit wonder to a degree.
15. Maniac – Michael Sembello
A tense and energetic masterpiece of the '80s, Maniac is a song everyone knows (except for gen Z perhaps).
However, Sembello managed to have two songs that reached the Hot 100 charts and while Maniac made it to number 1 and the other was far less popular at number 34, we all remember Sembello for this hit.
16. Raining Men – The Weather Girls
Despite the success of this song back in the 80s, The Weather Girls never managed to repeat the success of It's Raining Men.
The reason why you won't hear many songs from the Weather Girls these days is that they disbanded after their fifth album, back in 1988, mainly because a lot of their music just didn't do well.
17. Jenny 8675309 – Tommy Tutone
Another band with one hit that overshadows all their others, Tommy Tutone had a couple of other hits before this one, with a song just from the previous year reaching the Top 40: "Angel Say No."
The band is still present and still active, but you won't hear about them anymore, mostly because they just don't keep up with the times I suppose.
But that's just as well, a lot of modern pop music is too soulless for me.
18. Mickey – Toni Basil
"Oh Micky you're so fine…" goes the song that everyone knows, but from the band that no one remembers.
In all fairness, it's 40 years later, but Mickey is the only song you know from Toni Basil unless you were a die-hard fan.
19. I Melt With You – Modern English
I know there's a really cool punk rock cover of this song, and a lot of bands have undertaken to cover this song, and that's probably contributed to its success or staying power over the years, but Modern English is pretty much unheard of today.
In fact, you can barely even consider this song a hit wonder, but because of its success over the years, it's on this list.
20. Cars – Gary Numan
21. In a Big Country – Big Country
22. Whip It – Devo
23. It Takes Two – Rob Base & DJ E-Z Rock
24. Pass the Dutchie – Musical Youth
25. I Just Died In Your Arms – Cutting Crew
27. Two of Hearts – Stacey Q
28. Our House – Madness
29. Big In Japan – Alphaville
30. Funkytown – Lipps, Inc
31. Video Killed the Radio Star – The Buggles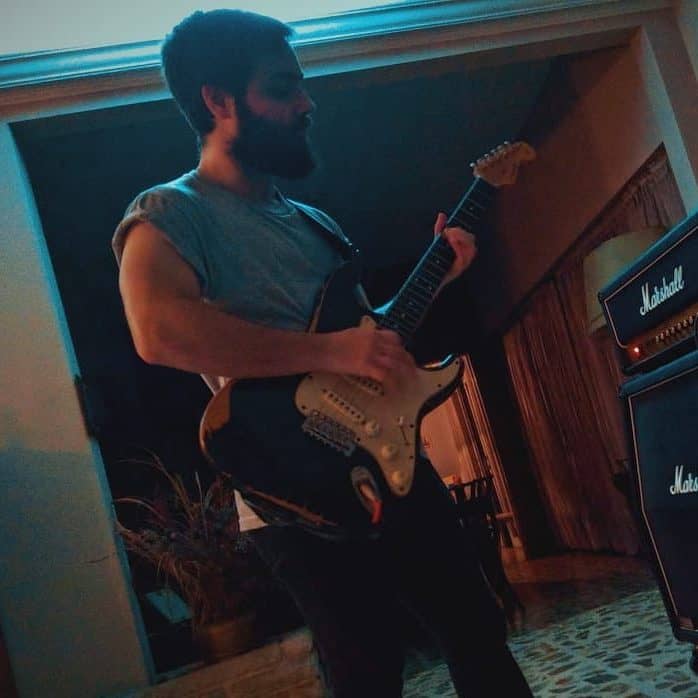 Hello there, my name is Ramiro and I've been playing guitar for almost 20 years. I'm obsessed with everything gear-related and I thought it might be worth sharing it. From guitars, pedals, amps, and synths to studio gear and production tips, I hope you find what I post here useful, and I'll try my best to keep it entertaining also.