Guitarists of all ages have been Nirvana listeners.
Perhaps because of the conspicuous fuzzy sound of the guitar in combination with the strength and effusiveness of the whole band.
But undoubtedly the biggest reason why this band was important was the figure of their singer and guitarist Kurt Cobain.
He brought a highly expressive sound to the '90s scene that many musicians, even today, try to imitate.
To get the Nirvana sound the best guitar is surely the Jaguar. Although Kurt used several guitars throughout his career, this model is the one that will give you his purest sound.
Here is a list of the most used guitars by this music legend. In addition, we will provide information about the amplifiers and pedals needed to replicate his tone in the best way.
Guitars Kurt Cobain did use
Kurt Cobain was known to use a wide range of guitars in recording and live concerts. 
What remained constant in his sound was his particular way of playing the instrument.
Although he was famous for a heavy distorted sound, he mainly used Fender electric guitars with single coils but he wasn't averse to humbuckers either.
Fender Mustang
To begin with, we have the Fender Competition Mustang. Cobain claimed in an interview in 1991 (months after Nevermind was released) that this guitar was his favorite.
What is more, this Fender model is usually connected to Kurt due to appearing in the video clip of Smells Like Teen Spirit.
However, that wasn't the first time Nirvana's leader was seen playing a Mustang, even though is not so noticeable, Kurt used this guitar on the cover of the album Bleach.
Although Kurt continued to use Mustang guitars until, In Utero's era, the original one was destroyed in 1990. He played that guitar since 1988 and its look was modified several times.
Fender Stratocaster
As mentioned, Nirvana's singer had a tendency to play single coil guitars and Strat is the flag of that kind.
Cobain used bunches of Stratocaster throughout his career but perhaps the most recognizable is the Vandalism Strat.
This guitar was first introduced in the year 1991, consisting of two single-coil pickups in the middle and neck position featured with a Dimarzio humbucker in the bridge.
What is more, it was the first guitar used in live concerts after recording the album Nevermind and was played ad nauseam during the whole tour.
Fender Jaguar
Cobain's Fender Jaguar was probably one of the most mysterious electric guitars of all rock history. It is said that Kurt knew about it through an advertisement and he bought it.
Contrary to its stock design, this Jaguar had an extra volume pot, a three-way switch plus dual humbuckers.
It was so unique that in the 2010s, Fender built a signature design for that model (more on that later).
Certain people assure that the guitar was owned by Martin Jenner, another left-handed guitar player from Everly Brothers who also took part in Cliff Richard's band.
Although no one is completely sure about that, the guitar came with a hard case for flights something common for pro musicians.
This guitar was the guilty party of Kurt's bright, fuzzy tone but maybe what is most interesting about this instrument is the history behind it.
We will probably never know where this wooden piece came from but what is certain is that it shaped the sound of the 90s.
Univox Highflyer
In 1992 the band wasn't playing live so when Kurt appeared with this guitar late that year it really called the attention not only by its tortoiseshell shape but also for its sound.
This instrument was the first guitar he owned, he modified it to suit his preferences.
While the original configuration presented two P90 pickups, Cobain replaced them with humbuckers. We cannot be sure but based on the time he used it live he may have recorded part of In Utero with it.
It was used in October 1992 for some shows in Argentina where they didn't play Smells Like Teen Spirit! (Argentinians will never forget that).
Then, he played it again in a live performance on TV in 1993.
Martin D 18 acoustic 2
Last but not least, we have Kurt's acoustic baby bought in 1992 and well-known to be used in the famous MTV Unplugged performance in 1994.
Like with most of his guitars, this Martin was a rare instrument built in the 50s, an acoustic guitar featuring electric guitar pickups, maybe one of the first of its kind.
Modern, cheaper alternatives
As mentioned earlier, the iconic grunge legend had a large number of guitars under his belt.
For those who want to replicate his sound would be a headache to acquire every single instrument he had.
Fortunately, is possible to achieve Cobain's tone through different cheaper alternatives today.
The most usual and also simple way would be getting a Squier Strat preferably black (looks are important too!) modded with a full-size humbucker in the bridge position, matched with a distortion pedal his crunchy tones might be easily reachable.
Following the economic line, any Squier model will be suitable enough to emulate the output.
A Jaguar or Mustang will do the job very well, always in combination with a good amp and pedal effects.
Although Jazzmasters present P90s pickups rather than single coils or buckers, they will sound pretty much like Kurt's killer tones.
This guitar is also made by Squier, so it would be affordable and it looks quite similar to Jaguars.
Finally, if your budget is a little bit higher, you could try a Fender Duo-Sonic with a single coil in the neck featuring a humbucker in the bridge position.
Although its price is superior to those previously mentioned models, is not way distant plus you will be getting a Fender instead of a Squier.
Premium alternatives to get the Nirvana sound
If you are looking for high-ended pieces to replicate Kurt Cobain's tone you can't miss trying the Fender Kurt Cobain Jaguar Special.
This signature instrument is built following the specs presented in his guitar: three potentiometers, the pickup selector, and two humbuckers.
It offers a rough distorted tone but also provides a polished clean tone plus a 24 inches scale length that helps to mimic the edgy tone of Kurt's Jaguar.
This guitar replicates everything, the sound, the materials, and even the Fender logo of that time.
Although it wasn't widely played, Cobain joined Fender back in the 90s to build a guitar that suited his personal specs.
That's how the Fender Jag-Stang was born, a guitar created by combining characteristics presented in Jaguar and Mustang, that's why it's called that way.
With a 24 inches scale length, a single coil pickup in the neck featuring a humbucker in the bridge position, and a Mustang vintage-style tremolo, this instrument offers the sound of Nirvana's frontman.
As this guitar was created literally by Kurt its configuration provides the characteristic punchy sound of alternative rock.
Don't forget about amp and effects
Perhaps the preferred Kurt amp was the Fender Twin Reverb, it was used in the recording of In Utero and also employed in the famous MTV Unplugged show.
Apart from this equipment, Nirvana's guitar player used a Mesa/Boogie preamp as well.
The latter was usually paired to a Crown power amp but later he matched it to Marshall cabinets.
However, nowadays we have an amp that may cover the tonal options provided by those two gears.
The Fender Blackstar is a valve combo amp that presents great adaptability and offers an American-style tone perfect to replicate Nirvana's sound.
This amplifier has a wide variety of tweaking options, with two channels (clean and overdrive) and wonderful equalization settings it will be as versatile to achieve the output provided by the amps previously mentioned.
Regarding pedals, Cobain wasn't eccentric at all, he shaped his sound by using just two main pedals: a chorus and a distortion.
In the early ages, this guitar player employed the well-known Boss DS-1 distortion pedal but then he'd move to its older brother, the Boss DS-2 Turbo Distortion.
Nevertheless, both effects present similar features, you could go for one or the other and you will get a tone alike.
Although the former presents some limitations, is an amazing pedal, quite versatile.
To achieve those atmospheric twangy tones Nirvana's lead guitarists used the Electro-Harmonix Small Clone, a plain chorus pedal with simple settings.
Just a depth control plus a rate knob, short and sweet.
Another good and more complex choice could be the Boss CE Chorus Ensemble.
This pedal offers more options, presenting a total of four knobs to control not only depth and rate but also the level of the chorus and a filter plus a dual output to double or pan it.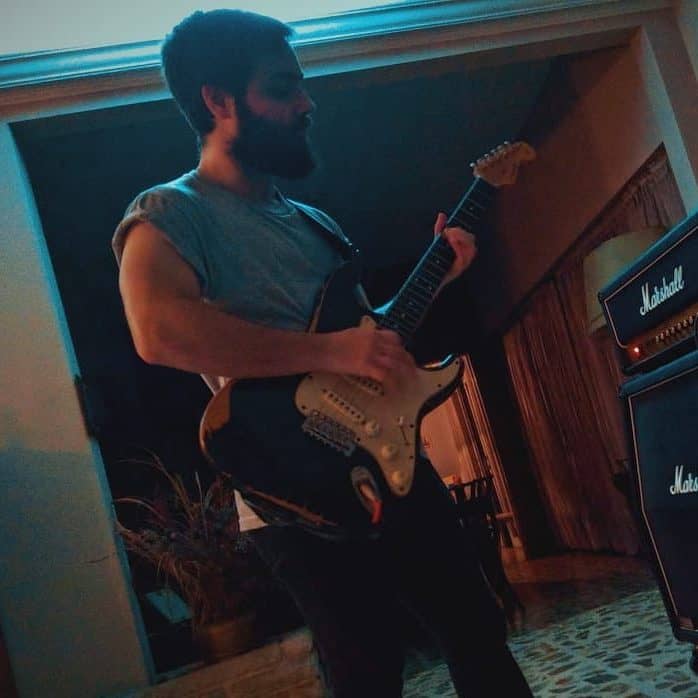 Hello there, my name is Ramiro and I've been playing guitar for almost 20 years. I'm obsessed with everything gear-related and I thought it might be worth sharing it. From guitars, pedals, amps, and synths to studio gear and production tips, I hope you find what I post here useful, and I'll try my best to keep it entertaining also.