Learning to play guitar is a long but amusing process.
Some people believe it's like going from point A to B, with everything that needs to be learned lying in the middle.
Once you reach B, you already know everything, right? Wrong.
In reality, learning guitar is a never-ending journey. One can always achieve a certain level of proficiency, but not everything is to be learned.
One way or another, what's important is just to begin no matter what. Pick up the guitar, and try to learn that song you're dying to play.
And how can you learn that song if you're just a beginner? By checking tabs on the internet.
There are hundreds of websites that will provide free guitar (and bass) tabs to accurately learn your favorite tunes.
Among the top free guitar tab websites, we find Ultimate Guitar, Youtube, Cifra Club, GuitarTabs.CC, and Songsterr. Naturally, there are lots of websites to find great tabs, but these five have shown to be some of the most useful and interactive ones.
It is said that a journey of a thousand miles begins with a single step. We believe that a journey of a million songs begins with a single chord.
Start your journey with one of these reliable websites.
1. Ultimate Guitar
Ultimate Guitar is, probably, the best website to find guitar tabs.
When typing a name of a band or a song on your search browser, chances are, Ultimate Guitar will appear in the top three options.
It has currently more than 1 million tabs in its archives, so it's relatively impossible not to find a song you like.
The number one advantage of Ultimate Guitar is that most songs come with different types of tabs.
For example, let's suppose you want to learn the all-time classic Come As You Are by Nirvana.
When typing the name of the song in the website searcher, you'll find the normal text-based tab with the numbers of the fret you must press on to produce the right note.
However, you'll find an alternative tab with the lyrics of the song and the chords you need to play.
Naturally, you'll also find that some songs have more than just one version, so you can analyze them all and stick with the one that seems the most reliable.
Oh, right. That's one slight disadvantage regarding Ultimate Guitar.
Since users are allowed to upload their own tabs, it's common to find discrepancies regarding songs.
That is to say, some tabs will be wrong. They may lack certain notes, or be excessively simplified.
More experienced guitarists will immediately spot inaccurate tabs, while beginners will most likely play a song or two erroneously, not being aware of the mistakes they're committing.
The good news is that some users have taken the time to leave a note on how accurate the tab is at the end or the beginning of the tab.
All in all, it's worth mentioning that most tabs will be fine, even if they are missing a technique or two.
2. Youtube
Needless to say, Youtube is not a guitar tab website solely.
However, the amount of Youtube channels that provide free tabs and lessons is boundless.
We could point out several advantages of learning a song through a Youtube channel:
Play-along tabs: easier to follow through the song
Micro teachings: some videos include both tabs and tutorials
Isolated tracks: certain Youtubers provide two versions (play-along song and guitar/bass isolated alternative)
Attention to finger position: not only you'll find the tab to learn which notes to play, but also how to position your fingers, facilitating the results
A better comparison: it's much simpler to learn a song through a tab when you're listening to what's being played
Time control: Is the song so fast that you find it impossible to catch up with its time? Don't worry. Just go to settings and slow the reproduction's speed down. You'll perceive the notes better (especially useful for complicated guitar solos!)
Youtube could be a great first approach toward learning songs via tabs.
3. GuitarTabs.CC
Here's an old but functioning website to find tabs on all types of songs.
Its interface is direct and easy to follow. Just click on a song, and follow the text-based tabs.
Also, you'll find some songs that come with the lyrics and the chords that need to be played on that part. Chords come with text-based diagrams too, so you know how to play them.
Now, the truth is, there's not too much to say about this website.
It's a simple and effective find-your-text-based-tab-songs website.
4. Songsterr
Here we have a fun-to-interact site. Many beginners choose Songsterr (if not Youtube) as their go-to place to learn a song.
What makes Songsterr stand out from the rest is that its tabs are proactive.
To be more precise, they are follow-through, interactive tabs, just like a Youtube video tutorial. However, instead of having the entire original song available, you'll have a midi-track.
You can play with this tab, select the starting point, turn on/off a metronome, and even choose from which guitarist's part you want to learn.
For example, if you want to learn a Guns N' Roses song, you'll have both Slash and Izzy's guitars (and Duff's bass too!). Of course, this varies depending on the song and the popularity of the band, but it's a cool feature nonetheless.
What's more, Songsterr tabs present the rhythm notation and allow users to modify the existing tabs in case there are some errors.
And did we mention that all of these advantages come in the free version? With no need to subscribe or create an account?
Now that's what we call a great way of learning.
5. Cifra Club
In comparison with the other websites mentioned here, Cifra Club is not North-American public-oriented.
This is a Brazilian website with a Latin-American audience. However, its interface is so clean and easy to follow, that you'll learn a lot with this site, even if you don't speak Portuguese or Spanish.
They display the classical text-based tabs along with the lyrics + chords.
Plus, Cifra Club has its own Youtube channel, which provides play-along tabs and tutorials of popular songs.
And in case you were wondering, the answer is yes, they have most English songs.
Naturally, you'll find some well-known Latin rock and pop songs that you might not find on other websites as well.
Give this site a try in case you want to learn new songs, or even if you want to learn classics such as Wish You Were Here or Wonderwall.
Now tell us, which website will you choose first?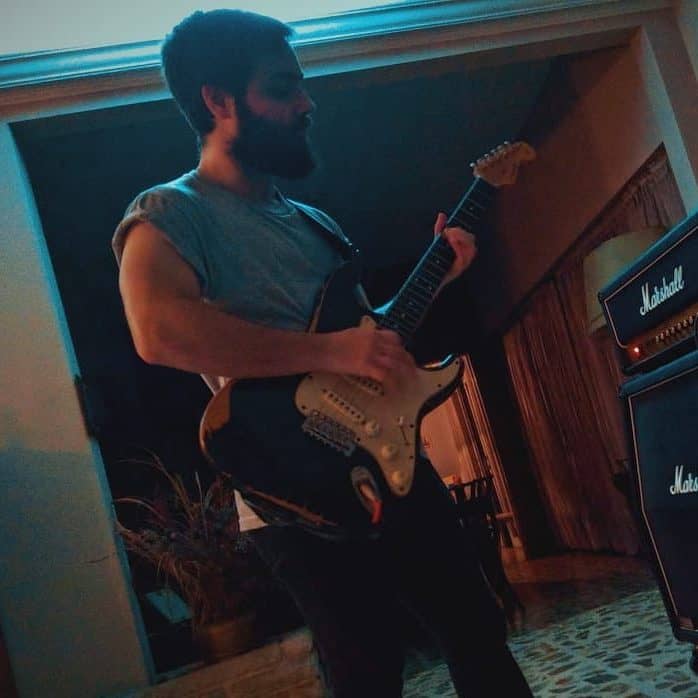 Hello there, my name is Ramiro and I've been playing guitar for almost 20 years. I'm obsessed with everything gear-related and I thought it might be worth sharing it. From guitars, pedals, amps, and synths to studio gear and production tips, I hope you find what I post here useful, and I'll try my best to keep it entertaining also.