Dumble Amps are some of the most expensive boutique amps in existence, and after their maker Howard Dumble passed in January 2022, their value has only increased.
Many musicians seek to own a dumble amp, but luckily, there are a lot of clones out there and we'll be looking at a few today.
Here are my top 5 Dumble amp clones:
Ceriatone Overtone HRM 100
VHT D-Fifty
Fuchs ODS Classic
Two Rock Kimock Signature
Bludotone Bludo-Drive Dumble Amp Head
This list is not in any particular order of quality, they're all pretty great amp clones in their own right. Some are more expensive than others and some have drawbacks unique to them. But before we look at the amps…
A Brief History of Dumble amps
Howard Dumble started modifying amps in the late 60s, starting out by playing around with Fender's Tweed and blackface amplifiers. Before was even 21, he was hired by Mosrite to build a line of Amplifiers for The Ventures.
By the late 1970s, Dumble was building High-gain amps much like the contemporaries of his time, but he wasn't interested in selling amps in great numbers.
He was more focused on quality than quantity and this gave him a great reputation as a master amp builder.
His amps became highly sought after and he would make each amp personally, usually not making more than 3 a year. Because of their rarity and quality, they're some of the most sought-after amps today.
His amps have been used by famous musicians such as Stevie Ray Vaughn, Eric Clapton, and Carlos Santana, but despite that, his name never really became a household one like Fender or Vox amps. He was more known by word of mouth among famous musicians.
Despite this, Dumble was revered as a genius by many guitarists for his amp-building abilities. He's always been a recluse though, and images of him at work were especially rare in the last 30 years of his life. Mostly because he didn't seem to get out much.
Either way, now you know a little bit more about Dumble and his amps if you found this post and clicked on it out of curiosity while not knowing what a dumble amp even was.
But if you want a deeper dive into what made these amps legendary, you should check out our short documentary on them:
1. Ceriatone Overtone HRM 100
The Ceriatone series is generally considered a pretty decent Dumble clone amp series and the HRM 100 is another variation on the classic high-gain tone of Dumble amps.
The Overtone HRM series is a version of a specific circuit system that makes a small reference to British guitar tones in its design and sound. They're more aggressive than the non-HRM counterparts, especially when the Preamp Bost is engaged.
The nice thing about this amp is that along with its internal adjustable tone stack, each channel has its own independent Master Volume control, giving you a lot more control over your tone.
Also, Ceriatone also manufactures their own version of the Dumbleator effects loop buffer under the name "C-lator", which is a great add-on for an amp like this.
Sound Sample:
Specs
Head
Dimensions: 21 x 10.5 x 11.35 inches
Actual weight: 26kg
Head with C-lator
Dimensions: 21 x 10.5 x 11.35 inches
Actual Weight: 29kg
Combo 1×12
Dimensions: 21 x 10.5 x 22.75 inches
Actual Weight: 35kg
Tube specs:
Power: 4 x 6L6GC
Preamp: 3 x 12AmpX7/ECC83
Rectifier: Solid State
Features:
High and Low Inputs
Push-pull Bright switch on the Gain control
Mid-boost, Deep, and Rock/Jazz toggle switches
Treble, Middle, Bass EQ (shared between channels)
Overdrive channel with Drive and Level controls
Internal Treble, Middle, Bass tone stack trimmers (overdrive channel)
Separate Master Volume controls for each channel
Footswitch (channel and Preamp Boost)
Rear panel OD Trim (fine tunes response of overdrive channel)
Passive effects loop
Full/Half Power switch
The Ceriatone comes at a number of different pricing options, starting at the price of the Complete Head Unit for USD 1,670.
It also comes with a couple of Kit options and Add-on parts that you could purchase along with it.
2. VHT D-Fifty
The VHT D-fifty is a 50-watt, hand-wired Dumble amp clone, costing only $849, it's good value for money.
It's a single-input amp head with three built-in voicing switches for Bright, Mid Boost, and Jazz/Rock. It comes with three-band EQ, plus a Master, Drive, Level, and Presence control.
It uses three 12AX7 preamp tubes and two Ruby Tubes 6L6GC in the output section. Like the Ceriatone, it also comes with a two-button foot switch to activate the preamp boost and overdrive sections.
Like many Dumble clones, it claims to match closely the sound of the boutique amps that inspired it, and surely it does.
Sound Sample
Specs
Max output: 50 watts
Preamp Tubes: 12AX7
Power Amp Tube: 2x 6L6GC
Controls for:

Volume
Bright, Mid Boost, and Rock/Jazz Switches
Treble, Middle, Bass
Overdrive, Drive, and Boost
Master Volume, Presence, and Preamp Boost

Doesn't come with a speaker
The Cabinet is made from Finger-joined Mahogany Plywood
Cosmetics: Black Vinyl with Wheat Grille Cloth
2 button Footswitch included
Dimensions: 8.5" x 19.5" x 10.25"
VHT seems to have put a lot into the boutique feel of this little tube amp head and it even comes with guides for tone setups to get different sounds out of it. It's not a necessity for anyone who likes to spend their time finding their sound, but it's a nice touch.
3. Fuchs Overdrive Supreme Classic
Fuchs amps are some of the best dumble amp clones money can buy, and the Classic is no different. It comes in four varieties: 50-watt and 100-watt each size available as heads or 1×12 combos.
The head holds 6L6 power tubes and a pair of 12AX7 preamp tubes, with two additional preamp tubes driving the effects loop and phase inverter. This solid-state rectifier-equipped amp also comes with a remote controller in a professional-standard metal casing.
It comes with similar bells and whistles to other Dumble clones, like switches for Overdrive, two boost stages, mid boost, and reverb. The reverb isn't a classic spring though, but rather a digital chip effect that's become quite widely used in a lot of reverb and modulation stompboxes.
There are plenty of good things being said about Fuchs amps, but I'll try to keep the overview on this one short.
It's great both with overdrive and clean tones
There is immense clarity throughout its range of effects
The tone controls are push-pull, giving you options from vintage sounds to more aggressive profiles
It comes with an accent control to alter the amount of negative feedback at higher frequencies
You can specify the length and level of the reverb
The effects loop comes with adjustable input and output, compatible with everything from stompboxes to professional line-level audio gear.
You can even switch between series and parallel effects loops.
The ODS Classic comes in at a pretty reasonable price of $999 bought brand new. It's a little pricier than some other clones, but the sheer amount of control you get on this amp justifies every cent.
Sound Sample
Other specs
4 x 12AX7 preamp tubes (all models)
Power Tubes: 4 x 6L6 (100-watt) and 2 x 6L6 (50-watt)
Dimensions: 100-watt

11.5 x 21 x 8" tall(head)
11.5 x 21 x 17 (mini combo)
8.5×11.5×21'(standard)

Dimensions: 50-watt

11.5 x 21 x8" tall (head)
11.5 x 21 x 17 "tall (mini combo)
8.5 x 11.5 x 21" (standard)
weight: 33lbs/37lbs/38lbs
weight: 38lbs/ 42 lbs/ 43 lbs
4. Two Rock Kimock #10
Steve Kimock has made a couple of dumble amp models over the last while and The Two Rock Kimock is one of Steve Kimock's signature amp model series. Out of this series 10 prototypes were made, each with its own unique mix of sounds.
Two Rocks are quite pricy in the range of Dumble models, though still not coming close to the price of Dumble amps themselves. Costing upwards of 5000 dollars each, these amps are almost as sought after as Dumble's rare boutique amps.
Partly it's because they're also rare. Each Prototype had a limited production of around 25 amps each, and all were seemingly amazing with unique hand-made features.
These amps were built by the two founders of Two Rock, Bill Krinard and Steve Kimock.
Since it wouldn't make much sense to talk about every single prototype, I will be covering the 10th one, being that it's the most recent one and because I like its vintage look.
Regardless of which prototype you prefer, they're all around the same price range and all of great quality.
Owing to the rarity of these amps, you might have a lot of trouble finding any left, most sites turn up with out-of-stock notices.
Sound Sample
Specs
Channels: 2
Tube amps: 2 x 6L6
power: 560 watts
Output: 4, 8, 16 ohm
FET Input (foot-switchable
Treble, middle, and bass tone control
Bright, Mid, Deep, Dual EQ settings
Boost, Gain, and Master on each channel
Solid State Recitifer
Individually selected components
each amp is signed off by Steve Kimock personally
5. Bludotone Bludo-Drive
The Bludo-Drive is known to be one of Bludotone's best Dumble clones out there, with its hand-built design, made to exacting specifications and tuned to the tastes of the individual player.
Bludotone offers customization for these amps free of charge, but fair enough, the price tag on it justifies a bit of free service. Starting at $4999, the Bludo-Drive amp series comes with additional features, but even its base model is pretty amazing.
Sound Sample
Specs
100W RMS standards
50W version available by special request
50W version also available with Tube Rectifier
6L6 or EL33/6CA7 output tubes (customer's choice)
6V6 option available on 50W version too
Footswitchable Overdrive
Footswitchable Preamp Boost
Footswitchable Mid Boost/FET Bypass
Available in '70s, Low-Plate Classic, High-Plate Classic, Low-Plate Skyline, High-plate Skyline, and Ojai Special Voicings
Custom and Legacy voicings also available by request
Honorable mentions
Singletone
Just look at this beauty: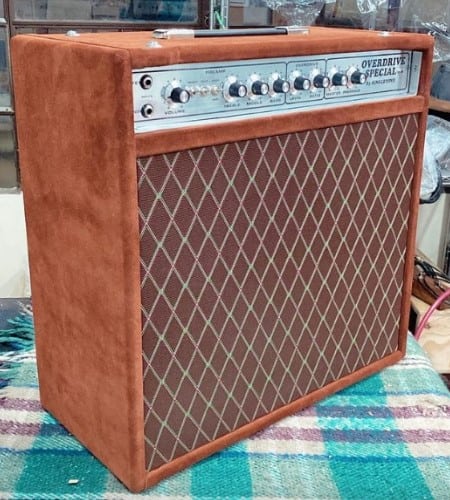 The best thing? I actually own the one in the picture.
You can check their amp lineup here.
Amplified Nation
If you are looking for a specific Dumble voicing, probably these guys have it.
Welagen
Another premium alternative that can be left out of any list.
Alternatives
Pre amp pedals
If you still like the feeling of a physical object that you can work with, the Malin Preamp Pedal is pretty much the pedal version of a dumble amp. It's meant to fit into a pedal board and be compatible with the amp you currently have.
It will still set you back a bit, costing $1400 plus shipping fees. It still needs to be connected to a decent amp, but at least you won't have to buy a brand-new one.
There are a number of other preamp pedals, but perhaps that's a deeper topic for another article. Either way, these are the alternatives, from best to "worst".
Custom Tones Ethos Overdrive Preamp
Shin's Music Dumboid Twin version
OneControl Golden Acorn
Mini Mooer Rumble Drive
Wampler Euphoria
What's great about these pedals is that while they can provide a sonic profile resembling a Dumble amp, they also come with a versatility that you won't find in amp clones.
Digital alternatives
Digital amps are a relatively new form of interface for guitarists and while many of us still like to think that we have to plug our guitars into that box with the knobs to make them sing, digital amps are proving otherwise.
For a fraction of the cost of a physical amp, digital amps are providing not only the tone but far more variety than physical amps are. I think the main thing holding them back is that people haven't warmed up to them as much yet.
Most multi-effects digital amps come with a Dumble-style digital amp built-in.
One of the most well-known is the Helix Litigator digital amp.
It was made with Dumble sounds in mind.
A few other good ones are coming up though:
Positive Grid BIAS Amp Desktop '67 Dumble Clean
S-Gear/ Scufhamm VST
Aside from the Helix, these two seem to be the best alongside the rest.
The BIAS Digital amp seems to match the Dumble feel the most, managing to get the lower strings to sound clear better than the other ones, but hey, that's just my opinion!
Either way, try a digital amp just for the hell of it.
Are Dumble clones worth it?
The thing with original Dumble amps is that it really depends on your taste. I know that a lot of the desire for the amps comes from their rarity, but it has to be noted that they're also of unique quality.
I personally don't think they're worth $50,000 though. But that's maybe because I'm used to production line amps.
I'm sure we're all aware that the only reason they have that pricetag now is that they're literally never going to be made again, and there are only about 300 in existence, that's unfathomably rare.
I don't even think there are rare pokemon that are that few in number.
Forget the hype and don't try to be "that guy." Amps are great, and great tone is an awesome thing, but great amps don't make great guitar players, practice does.
Sure, a great guitarist will sound better on a premium amp, but a bad guitar player will still be bad on a $100,000 amp.
So here's where clones enter the picture. I'd rather be bad on an $850 D-Fifty than on an amp that's worth as a sports car.
Getting to experience the feel and tone of an unachievable amp for cheaper is always great, and although there might be some extra magic on the original ones, circuitry and electronics are just that.
Could an original ODS be $95k better than a Bludotone replica?
In performance, I doubt it.
For sure, most of the price differences in the market for these amps could be explained by rarity and collectibility as I mentioned earlier.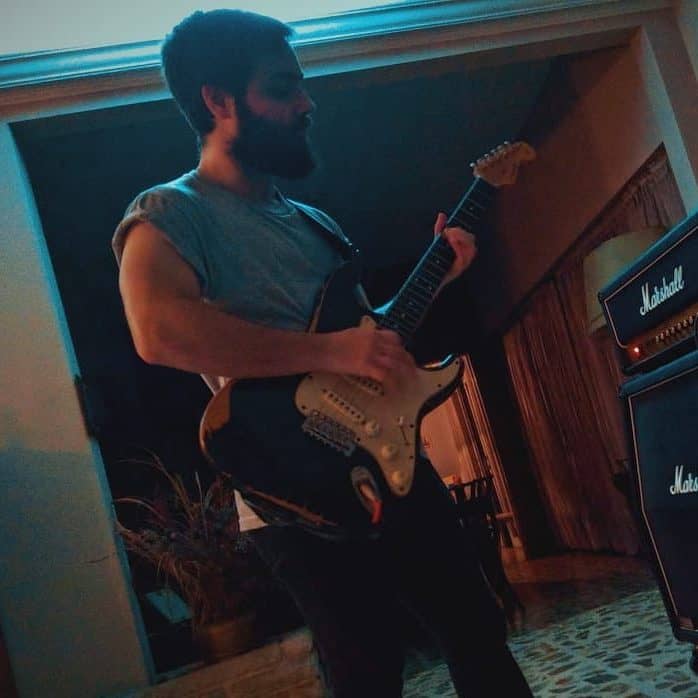 Hello there, my name is Ramiro and I've been playing guitar for almost 20 years. I'm obsessed with everything gear-related and I thought it might be worth sharing it. From guitars, pedals, amps, and synths to studio gear and production tips, I hope you find what I post here useful, and I'll try my best to keep it entertaining also.