Even if you don't watch baseball very often you're probably familiar with the concept of a walk-up song.
It's basically a short clip of a song that popular players choose as their anthem to get their blood pumping and presumably strike fear in the hearts of the opposing team.
Or at the very least it's a fun way to entertain the crowd and keep the momentum going.
There are similar concepts in other sports such as boxing when the main event contenders emerge into the stadium.
And getting to choose a signature song as though you're a character in a movie with a great soundtrack sounds pretty awesome to me.
So grab a hotdog with mustard and let's take a look at some of the choices that players have made over the years.
Which one would you choose?
1. Lose Yourself
Eminem was really on fire there for a while and it seemed like he couldn't write a bad song even if he tried.
I mean how did a rap song end up with one of the most iconic guitar intros of the last few decades?
This one really fires on all cylinders too since the music and lyrics are both perfect for setting the mood before the crucial moment in a game.
I mean technically a batter has three strikes before they're out rather than "one shot" but you really can't go wrong by choosing this one as your walk-up music.
Written by: Marshall Mathers, Jeff Bass, and Luis Resto
Year Released: 2002
Album: 8 Mile: Music from and Inspired by the Motion Picture
2. Crazy Train
When you want to let the pitcher know that you don't know karate but you know crazy this is the one to pick.
And famous guitarist Randy Rhoads struck it rich with the timeless riff that kicks off this song.
This song was a homerun for Ozzy Osbourne too as the first single he released as a solo artist, after leaving Black Sabbath.
Now that's how you make a comeback!
Written by: Ozzy Osbourne, Randy Rhoads, and Bob Daisley
Year Released: 1980
Album: Blizzard of Ozz
3. Glory Days
This song starts out with a verse about a man who played baseball when he was younger.
And although the song is about looking back at old times, baseball walk-up songs aren't meant to be carefully dissected… it's just about the energy of the music.
And since Bruce Springsteen is so proud of the working class and the state of New Jersey, I think this is a great choice for any baseball player from that area.
Written by: Bruce Springsteen
Year Released: 1984
Album: Born in the U.S.A.
4. God's Gonna Cut You Down
Johnny Cash's version of this old song has been used by many baseball pitchers and while the music isn't blood-pumping like most walk-up songs, the lyrics are downright brutal.
But don't take it too seriously… no matter what baseball superfans might try to tell you, at the end of the day it's just a game.
Written by: traditional
Year Released: 2006
Album: American V: A Hundred Highways
5. Welcome to the Jungle
This may not be the most creative choice for a walk-up song but if you're looking for a tune about intimidation this is it: "You're in the jungle, baby. You're gonna die."
When Rock music was about being bad and dangerous, Gun N' Roses let the competition know who was king of the jungle and this song has been popular ever since.
And as the first track of their first album, it let their fans know that they were in for a wild ride.
Written by: Guns N' Roses
Year Released: 1987
Album: Appetite for Destruction
6. Bad to the Bone
Possibly the only one of George Thorogood's hits that wasn't about alcohol, this is a great walk-up song because it doesn't take itself too seriously like most of the others.
The stuttering style of the chorus is quirky and fun and just about everyone knows this song even if they couldn't tell you what band sang it.
Written by: George Thorogood
Year Released: 1982
Album: Bad to the Bone
7. Thunderstruck
I hope you didn't think AC/DC wasn't going to be on this list.
Because AC/DC simply belongs in stadiums whether they're performing a concert or just being played during a baseball game.
The intro for the song has the famous finger-tapping guitar melody with the band shouting "Thunder!" almost as a war cry.
And this one gets bonus points for being released after the band had already been around for 17 years.
I mean, a lot of bands are dead in the water by their third or even second album.
Written by: Angus Young and Malcolm Young
Year Released: 1990
Album: The Razors Edge
8. Like A Virgin
When everyone is trying to act tough and show how macho they are, sometimes taking the high road is the right choice.
And perhaps a baseball player with a great sense of humor is even scarier to the competition than the serious guys.
Anyway, hat's off to batter Mark Canha for making everyone laugh and choke on their beer or hotdog. Well played.
Written by: Tom Kelly and Billy Steinberg
Year Released: 1984
Album: Like a Virgin
9. Fly Me to the Moon
Yet another way to stand out from the crowd is to go with something classy when everyone else is using Rock and Heavy Metal anthems.
This song is definitely not about baseball and is a love song like many other Sinatra favorites.
In fact, the original title of the song is In Other Words and it has been sung by many different people but everybody knows the Frank Sinatra version.
But the intro lyrics are a perfect description of hitting a baseball out of the park and since walk-up songs are only played for 10 or 15 seconds, it works perfectly.
Written by: Bart Howard
Year Released: 1964
Album: It Might as Well Be Swing
36 More Amazing Baseball Walk Up Songs
| | |
| --- | --- |
| Title | Artist |
| Careless Whisper | Wham |
| God's Plan | Drake |
| Shining Star | Earth, Wind, and Fire |
| Mama Said Knock You Out | LL Cool J |
| Big Shot | Kendrick Lamar |
| Sweet Emotion | Aerosmith |
| Load Up the Bases (The Baseball Song) | Whiskey Falls |
| Eye of the Tiger | Survivor |
| Sabotage | Beastie Boys |
| There Goes My Hero | Foo Fighters |
| Your Love | The Outfield |
| Kashmir | Led Zeppelin |
| Seven Nation Army | The White Stripes |
| Here Comes the Boom | Nelly |
| Jump Around | House of Pain |
| I Fought the Law | The Clash |
| Can't Stop | Red Hot Chili Peppers |
| Enter Sandman | Metallica |
| Black Betty | Ram Jam |
| Big Poppa | The Notorious B.I.G. |
| This Is How We Do It | Montell Jordan |
| Centerfield | John Fogerty |
| Dangerous | Ying Yang Twins |
| Paranoid | Black Sabbath |
| On to the Next One | Jay-Z |
| Thunder | Imagine Dragons |
| We Will Rock You | Queen |
| Turn Down for What | DJ Snake and Lil Jon |
| Grinding All My Life | Nipsey Hussle |
| High Hopes | Panic at the Disco |
| So Fresh, So Clean | Outkast |
| Party Up (Up in Here) | DMX |
| Wild Ones | Kip Moore |
| Killing in the Name | Rage Against the Machine |
| Sultans of Swing | Dire Straits |
| Wild Thing | The Troggs |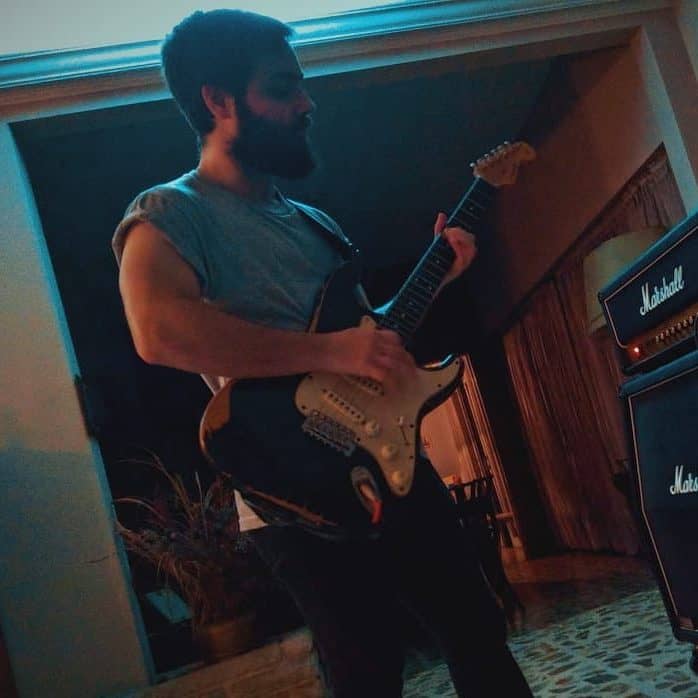 Hello there, my name is Ramiro and I've been playing guitar for almost 20 years. I'm obsessed with everything gear-related and I thought it might be worth sharing it. From guitars, pedals, amps, and synths to studio gear and production tips, I hope you find what I post here useful, and I'll try my best to keep it entertaining also.