Everyone needs to get pumped up now and then, sometimes you're just feeling a little unmotivated, and sometimes it's for other reasons.
When you're going to the gym, pump-up songs are the best way to get yourself ready for a great workout.
Below is a list of songs to get you ready to take on the world, no matter what day it is.
1. Til I Collapse – Eminem
Starting off on a song that everyone has heard at least once.
Whether you need motivation for work, exercise, or for overcoming a challenge, this song hits on it all.
Till I collapse is a song written mainly by Eminem, but it features rapper, 50 cent as well and will have you feeling like you can go until you collapse too.
This song is a great pump-up song.
The song was certified double platinum for selling over 2 million copies in the US
The song has been used liberally in pop culture, once in an advertisement in 2009 for the then-upcoming game Call of Duty: Modern Warfare 2
The song has re-charted multiple times throughout the years due to its consistent reuse and popularity
Shane Mosley used this song as his entrance theme for his bout with Floyd Mayweather
2. Pump It – Black Eyed Peas
Something a little less aggressive to ease you into the list.
Pump It by the Black Eyed Peas is another fast-paced rap song, borrowing heavily from Dick Dale's surf version of "Misirlou" to create the spine of the song.
Pump it will get you pumped up and pumping in no time.
The creation of this song has an interesting tale to it. Will.i.am wrote the majority of this song, starting with discovering a song he didn't want but ultimately found to be good (Dick Dale's Misirlou).
He then remixed the song on the train, tightened it up on a plane ride to Tokyo, and then recorded vocals in a park in Tokyo.
3. Thunderstruck – AC/DC
No pump-up list is complete without a bit of AC/DC in it and what better song from AC/DC to use than thunderstruck?
Thunderstruck has a slow intro buildup that climaxes with an explosive guitar solo to start the song off properly.
The slow build-up helps create a sense of tension as if you're getting ready to step onto a stage or into a ring, and then it releases and the song becomes a rolling momentum.
The song is one of the most recognizable in the band's entire catalog and is a set list staple that the band has performed at nearly every show since its release
It is one of the only three songs released after Back in Black that is still being performed live by the band, with the exception of new material from current albums.
The song has been featured in many movies (there's a Wikipedia list you can check out) and has also been used in games and sports events
4. Eye of the Tiger – Survivor
Anyone who grew up either in the 80s or with parents who grew up in the 80s will know this song.
Oddly enough, it's about the only song that Survivor ever really had any commercial success with, but I think that's because it was so heavily used in Rocky, which was a widely successful movie at the time.
The history of the song aside, Eye of the Tiger definitely belongs on any hype-up song list.
It'll get you into the mood, whether you're going for a run or just getting ready to take on the day.
5. Seven Nation Army – The White Stripes
Jack White wrote that the idea he got for this song originated from his childhood when he misheard salvation army as seven nation army.
This song is all about being so powerful and so driven that even the whole world can't stand against you.
The lyrical context aside, the guitar line is not only memorable but extremely driving.
The song keeps itself simple, and it's just that simple that seems to take hold of the listener and make it so catchy for us.
6. Stronger – Kanye West
Stronger is not entirely the creation of Kanye West. It was inspired by Daft Punk's "Harder, Better, Faster, Stronger."
The running line of the chorus of the song really is built on that, but it doesn't take from the lyricism and feel of the rest of the song.
Kanye West, in recent times, has been lambasted for a lot of his statements, but one can't escape the fact that he is a good musician.
Besides, we're all looking to improve in some way or another and that's what this song is about, improving and having the confidence to do so.
7. Break Down The Walls – Asking Alexandria
Okay, so this is a bit heavier than most of the other songs on this list, but if you're looking to get pumped up, a few songs will do it as well as Break Down The Walls, by Asking Alexandria.
The song opens up with the main guitar progression going through and a smashing drum beat, breaking straight into the verse without pause.
The whole song is one long thrill ride of adrenaline and fist-pumping, foot-stomping mania.
What I love about this band is that lead singer, Andy Warsnop's voice is so versatile.
He goes from his raspy clean vocals to screaming so smoothly that you barely even notice.
His vocals are clear throughout, truly a master at his craft.
8. How You Like Me Now – The Heavy
The heavy, despite their name, are not heavy, but instead are a really great British blues rock band.
It's unlikely that you've heard of them, but you likely know this one song.
How You Like Me Now is one of those songs that just wreaks stylishness.
The blues rock band oozes their coolness out in this song and that is the contagious feeling you wind up getting out of this.
It's difficult to listen to this song and not feel like the coolest person in the room and if that doesn't pump you up for whatever you're looking to do, I don't know what will.
9. Another One Bites The Dust – Queen
It would be difficult to write a hype list without including Queen in the list.
Their music, while not always hyping, was always great.
From "Radio Gaga" to "I Want To Break Free," Queen is a classic band with many hits under their name.
That aside, Another One Bites the dust is on this list because of that bass line.
It would make sense since the song was written by the band's bassist, John Deacon.
The song is credited as Queen's best-selling single, with over 7 million sales.
It's important to note that Another One Bites the Dust was a huge departure from what Queen had been doing at the time.
Deacon wanted to make a song that people could dance to, with a tight drum sound rather than the big stuff they'd been doing at the time.
Michael Jackson even gave his input on this song at the time of its conception – the band knew they had a hit when the pop icon sat bobbing his head to it.
10. Here Comes the Boom – P.O.D.
Here comes the boom is another older song, but it's pretty explosive and in your face and it will get you amped and ready to go.
Here Comes the Boom was used in the titular movie of the same name, right when the main character got ready to enter the ring.
"Here comes the boom" gets you feeling aggressive and ready to take on your day. Just don't go starting fights while you're pumped.
11. Can't Hold Us – Macklemore and Ryan Lewis Feat. Ray Dalton
Originally released in 2011, this song was what you'd call a sleeper hit, only gaining attention in 2012 and 2013.
"Can't Hold Us" has been popular ever since, with many writers and critics giving it critical acclaim, complimenting the song on multiple occasions.
Macklemore and Ryan Lewis combine a soulful piano line with vibrant beats and trombone music, giving you the sensation that you're at a carnival, celebrating this exact moment.
This whole song is about how this moment is the most important moment of your life, and they'd be right because you'll never have it again.
The song encourages listeners to live right now and not be held back by anything.
12. Jungle – X Ambassadors feat. Jamie n Commons
Jungle is about as motivational as it gets when you know the backstory.
The song itself is meant to be an anthem, and it certainly comes across as one, with its big sound and slick guitar, coupled with electronic-rock percussion.
Jungle is a song meant to resonate with anyone who grew up in or around unprivileged surroundings, it's about surviving in the cruel world and not just surviving, but overcoming.
The song was also used in the movie Hercules 2014, with Jamie n Commons featuring in the song, adding the soul necessary to ground everything and make it a banger that makes you feel like Hercules himself when you listen to it.
13. Believer – Imagine Dragons
Imagine dragons are famous for their unique sound, with Dan Reynolds belting out the lyrics for this song just like he does in almost every other Imagine Dragons song.
It's hard not to sing along or get dragged into the mood of the song, but that's the whole point of it anyway, to be caught up in the feeling of the music.
Reynolds stated that the song itself was about dealing with painful things in his life, whether that was anxiety, feeling overwhelmed, disease, depression or pretty much anything that was a source of pain in his life at the time.
It's a song about rising above that, finding a place of perspective where you can be appreciative of the pain and make it your greatest strength.
Pretty cool intent, if you ask me, and you should think of it the same. Rise above your challenges and become better.
14. Remember the Name – Fort Minor
Mike Shinoda manages to show his lyrical genius once again in this song.
The co-lead vocalist in Linkin Park, Shinoda developed Fort Minor as his hip-hop side project, releasing "Remember the Name" on his 2005 album The Rising Tied.
The song features a couple of other rappers along with cameos from Linkin Park band members too.
The song's running line is this epic violin riff that carries the whole feel along with the beat, and the masterful rapping on top of that just makes for a song to get you feeling like a badass.
15. Animal I Have Become – Three Days Grace
The history behind this song only seems to add to its awesomeness.
Animal I Have Become is a rock anthem that gets everyone up on their feet and moshing around.
This song, alongside "Riot" will make any playlist into a hype list.
Lead singer Adam Gontier stated that he wrote this song while in rehab for his addiction to OxyContin, which made him abusive and angry.
The song itself, while aggressive, doesn't make one angry, but it definitely gets you feeling like an animal.
The heavy feel of the song and the sick riff couple together to make for a great hype song.
20 More Hype Songs
| | |
| --- | --- |
| Title | Artist |
| Lose Yourself | Eminem |
| Turn Down For What | Lil Jon |
| Icky Thump | The White Stripes |
| Can't Be Touched | Roy Jones |
| Sail | AWOLNATION |
| Bodies | Drowning Pool |
| Pretender | Foo Fighter |
| Walk On Water | 30 Seconds to Mars |
| Killing in The Name | Rage Against the Machine |
| The Final Countdown | Europe |
| Would? | Alice In Chains |
| Last Resort | Papa Roach |
| Given Up | Linkin Park |
| Rusty Cage | Sound Garden |
| Feel it Still | Portugal. The Man |
| Fighter | Christina Aguilera |
| Factory Girl | The Pretty Reckless |
| We Will Rock You | Queen |
| Hall Of Fame | The Script |
| Won't Stand Down | Muse |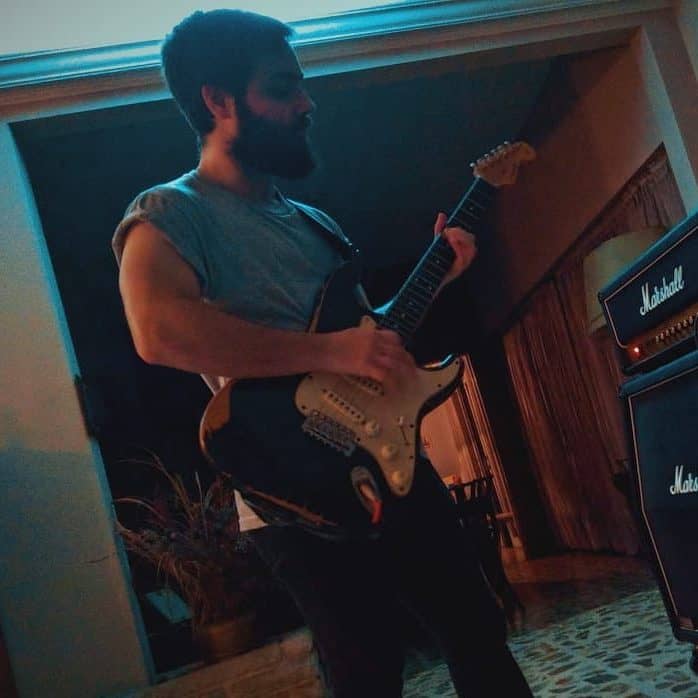 Hello there, my name is Ramiro and I've been playing guitar for almost 20 years. I'm obsessed with everything gear-related and I thought it might be worth sharing it. From guitars, pedals, amps, and synths to studio gear and production tips, I hope you find what I post here useful, and I'll try my best to keep it entertaining also.