Songs about being a step-parent that is directly speaking about it are a little harder to come by.
There are definitely a few songs that are directly about being a stepdad and a few about the love of parents.
Step-fathers will know how much those lyrics will mean to them.
The majority of this list are typical love/wedding dance songs meant to dance with a daughter and step-father, however, there are a few odd ones out to spice things up!
Nonetheless, these are amazing songs to have in your playlist if you are a stepdad.
1. Step by Step by Brandon Davis
This is definitely a great song about being a step-parent and stepping into the role of being a parent for the child.
He's singing about just because they're not their blood and was not there for the birth, doesn't mean they won't raise the child and that they are now their whole world.
2. My Boy by Elvie Shane
Another great song that directly implies that he is a step-dad and the song is about raising a child and their love for them as a step-dad/ step-parent.
His lyrics go "He ain't my blood, ain't got my name, But if he did, I'd feel the same".
The lyrics go directly into the life of a step-dad that it doesn't matter if the circumstances were different, he is going to be his dad.
3. He didn't have to be by Brad Paisley
This song not only talks about how the man who came into his life stepped up and truly made it better, that as soon as he came into their life he made it better and that one thing that was missing was now a full family, but the difference between this song and others is that at the beginning of the song for a bit it also talks about the single mom who wondered if she'd find anyone that found out about her child and wouldn't turn around and run.
The song is emotional and goes from the beginning to the end of how the family began.
4. Humble and Kind by Tim McGraw
It's a very wholesome country song that can absolutely celebrate the contributions of being a stepdad.
It's not necessarily directed towards being a step-dad but many have used this song as a step-father & daughter wedding dance due to its lyrics.
5. Hero by Mariah Carey
Just as mentioned in the intro that not too many songs are directed at being a step-parent but there are a few that'll have lyrics implied in a way to being a step-parent or those that are step-dads have found the lyrics and songs to be more meaningful to them to the hardships they face and contributions they make.
This is a song that is not implied but the song has lyrics of " A hero comes along" and no doubt that many step-dads have become heroes as they enter and make families whole.
6. Kind and Generous by Natalie Merchant
Step-dads have certainly turned lives around for the better and have made a difference.
When you are an adult and you look back at what your step-dad has done for you, you realize how "Kind and Generous" they truly are.
7. How Sweet it is by Marvin Gaye
We are definitely in more songs that have double meanings than before, in this particular song the lyrics could be implied to a step-dad and the other half someone they love.
His lyrics "you've shown me what happiness is in so many ways".
Just those lyrics alone can be what someone can think of when they think of their step-parent because typically when they join the family everything gets better.
8. Footprints in the sand by Leona Lewis
I want to say this song should be about a parent rather than anything else.
It doesn't mean it's not about being a stepdad but more along the lines of being a parent, especially when she sings about getting lost along the way and you've helped to carry on and gave me strength.
9. Better Place by Rachel Platten
Another great tune that would be a good option for a wedding dance.
The lyrics are "I'll tell the world it's a better place since you came along.".
Many can use those lyrics to describe the relationship between stepdad and child.
10. Honor Thy Father by Dream Theater
To change things up, Mike Portnoy from Dream Theater comes with a song about his troubled relationship with his stepdad.
This is on the heavier spectrum of music, but if you like metal, you will love this one.
11. Stepdad by EMINEM
12. Snopafella by Snoop Dogg
13. Cinderfella by Dana Dane
14. Stepdad by Alex Cameron
15. Learning by Kane Brown
16. Northampton's Child by Slowthai
17. Distopian Dream Girl by Built to Spill
18. The Story of Beauty by Destiny's Child
19. Steven by Jake Miller
20. I'm So Sorry by Imagine Dragons
21. Motherlover by The Lonely Island
22. This Year by The Mountain Goats
23. Born in Puerto Rico by Paul Simon
24. Take it Back by Ed Sheeran
25. China Dolls by Tom Odell
26. Say It Ain't So by Weezer
27. A Bigger Picture Called Free by Common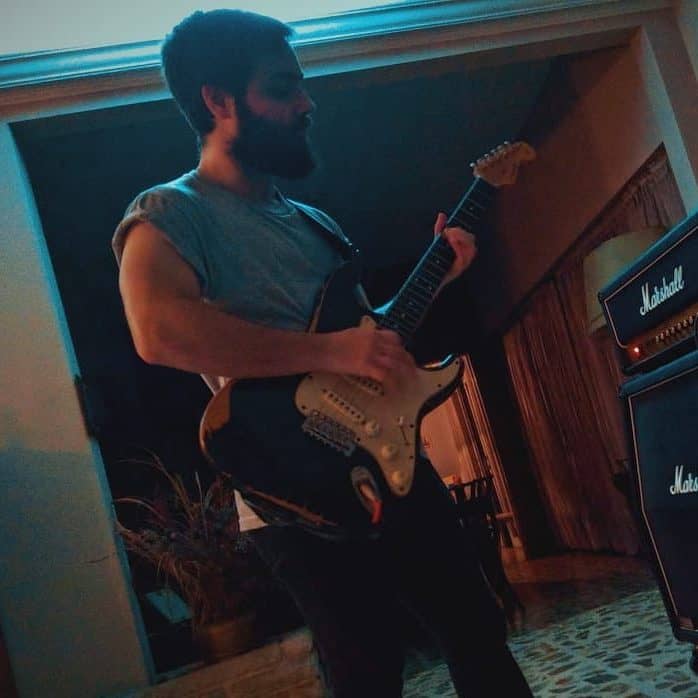 Hello there, my name is Ramiro and I've been playing guitar for almost 20 years. I'm obsessed with everything gear-related and I thought it might be worth sharing it. From guitars, pedals, amps, and synths to studio gear and production tips, I hope you find what I post here useful, and I'll try my best to keep it entertaining also.