The pre-game moment is always full of excitement and high expectations.
We're eager to witness our team being a champion, and celebrating post-game with our friends and family.
But of course, we're hurrying things up a little too much. We're jumping right into results, missing everything that's in the middle.
Instead, let's enjoy the entire ritual, from beginning to end.
Here we have the greatest hype songs to await for that sweet victory, and some other hype songs to boost your mood even if you're not at a game at all.
1. Seven Nation Army – The White Stripes
This song was made for singing from beginning to end.
Hell, you don't even need to know the lyrics to it.
Just sing the guitar part and you're all set to hype your entire weekend.
2. Pump It – Black Eyed Peas
The best song to pump things up has to be this one.
Seriously, just look at the title…
3. Bleed It Out – Linkin Park
Taken from the "Minutes to Midnight" album.
According to singer Mike Shinoda, they focused too much on perfecting the lyrics.
As a result, we can hear the memorable "here we go for a hundredth time" in the first line of the song.
Come to think of it, it's a great line for any sports enthusiast.
Sometimes you'll need to fail too much (and too often) before winning.
4. Right Now – Van Halen
This one's from the Sammy Haggar Van Halen era.
According to Haggar, these are some of the best lyrics he has written for Van Halen because they're not silly lyrics about partying and having fun.
Sure, those can come right after winning the match, so why not?
5. Remember The Name – Fort Minor
A great baseball warm-up track to hype you during the match.
6. Boom – P.O.D.
This track appeared in the WWE's Saturday Nights Main Event program for two years.
7. All I Do is Win – DJ Khaled
If there's a better "warm-up" theme, I either don't want to know it, or appears below on this list.
8. I Made It (Cash money Heroes) – Kevin Rudolf
Reaching the top is not an easy task, so it's always great to remind oneself about the struggles and sacrifices left behind.
After all, it's nothing but a way of showing gratitude for our effort.
9. Not Afraid – Eminem
You mustn't let your opponents know you are afraid.
Otherwise, they're having an advantage over you.
This song should help you stand your ground, and show the rest that you're not afraid.
10. Welcome to The Jungle – Guns N' Roses
Plenty of sports teams have chosen this fabulous hard-rock track as their "intimidation" song.
What can I say? It's a great selection undoubtedly, and one of the most recognizable hard rock songs from one of the most recognizable hard rock groups.
11. Crazy Train – Ozzy Osbourne
Crazy Train comes off of Ozzy's debut album "Wizzard of Ozz."
It has been played at so many sports events that I just couldn't leave this one out.
12. Ladies and Gentlemen – Saliva
This song was composed for the live-streaming event WrestleMania.
So yeah, you can listen to this one up before getting into a fight.
13. The Game (Triple H) – Motörhead
Jim Johnson wrote this song for WWE wrestler Triple H.
Needless to say, if Motörhead itself plays your "enter-the-arena" song, you're bound to become the champion sooner or later (probably sooner, if you ask me).
14. Confident – Demi Lovato
Confidence in one own's potential is a must for achieving desired results.
Demi Lovato reminds us of that with this song.
15. Song 2 – Blur
The most interesting fact about Song 2 is that Blur members never thought it was going to become a hit.
Oh, but you were so wrong, and I'm glad it didn't become another hidden gem.
16. Stronger – Kayne West
Stronger has a sample of Daft Punks' song "Harder, Better, Faster, Stronger."
Needless to say, those lyrics fit this song's message just right.
17. Machinehead – Bush
The hockey team the Columbus Blue Jackets play this rock song before their opening faceoff.
18. How We Do – The Game
American NBA champion Carmelo Anthony makes a guest appearance in the music video of "How We Do."
So, if you thought the song was not powerful enough to get you all pumped up before a match, then I hope seeing Anthony in the video does.
19. Fighter – Christina Aguilera
20. Victory – Diddy
21. Break Stuff – Limp Bizkit
22. Black & Yellow – Wiz Khalifa
23. Hero – Nas
24. Thunderstruck – AC/DC
25. Started From The Bottom – Drake
26. The Power – SNAP!
27. Radioactive – Imagine Dragons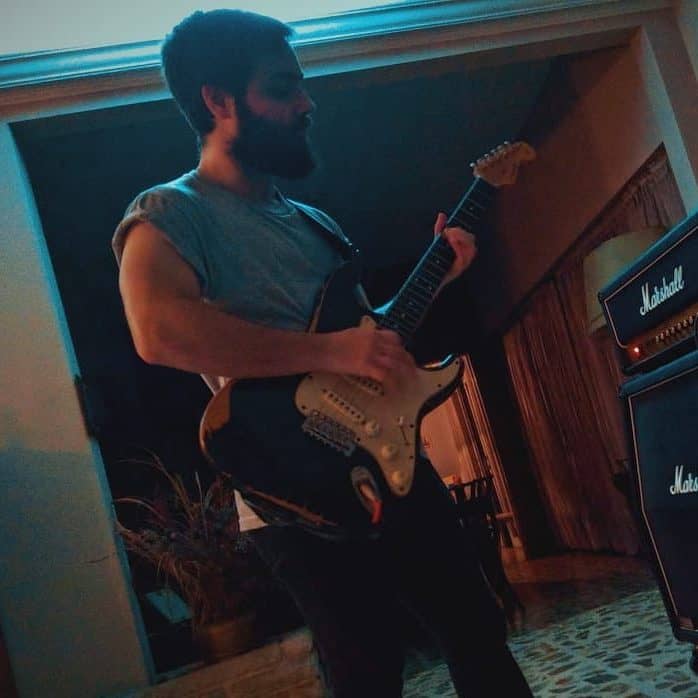 Hello there, my name is Ramiro and I've been playing guitar for almost 20 years. I'm obsessed with everything gear-related and I thought it might be worth sharing it. From guitars, pedals, amps, and synths to studio gear and production tips, I hope you find what I post here useful, and I'll try my best to keep it entertaining also.