Electricity is, arguably, one of the greatest discoveries ever made by humankind.
After all, most music gear has been, in part, the result of discovering electricity and all the many benefits that came with it.
Although it is said that electricity's discovery dates back as far as ancient Greece's civilization, what's really important is not to look back but to look ahead.
Naturally, electricity has made our lives easier, more comfortable, and safer. Who knows what miracles humanity will create thanks to this scientific phenomenon?
We'll leave speculations for scientists. Meanwhile, we can focus on a list of songs that pay respect to this powerful natural creation.
1. She's Electric – Oasis
Saying that someone's electric means that such a person is charismatic, attractive, and captivating.
In this song, Oasis talk about a girl with these eccentric characteristics.
But that's not enough. Seems that Noel Gallagher wants to be electric too!
2. Electric Barbarella – Duran Duran
The song makes reference to a sci-fi movie called "Barbarella."
However, the name of the song is not the only thing the group took from this film.
Naturally, Durand- Durand is the name of the antagonist in this movie.
3. Danger! High Voltage – Electric Six
Electric Six did a wonderful job depicting how it feels to have an attraction to another person.
If you don't understand why then it's because you haven't watched their witty and hilarious music video yet.
4. Electric Ocean – The Cult
British hard rock band The Cult was not content with naming a song after electricity… they had to name the entire album after it!
"Electric" is a must for every good, tough, rock n' roll enthusiast. But if you're not, then maybe giving at least this one a chance is not a bad idea.
5. Electrical Storm – U2
Electrical Storm appeared in 2002 in a recompilation album.
Nonetheless, this particular track was brand new.
It's worth mentioning, though, that the track has two versions. Which one do you prefer?
6. Thunderstruck – AC/DC
The most electric band in the world needed a song about electricity.
Of course, they already recorded a song called High Voltage back in 1975.
We prefer adding this one, though, since it's the only AC/DC song so far to receive more than 1B views on Youtube. Quite an achievement!
7. Electric – Katy Perry
What's more electric than naming one of your hits "Electric"?
I know what: having Pikachu itself and its pre-evolution Pichu on the music video of the song!
I'm painfully sorry for the rest of the artists on this list, but I strongly believe Katy Perry has already won this round.
8. Electric Funeral – Black Sabbath
We descend a step deeper into the world of metal with this Black Sabbath classic.
The song depicts a dying world during a nuclear war.
9. Electric Man – Rival Sons
No, this is not a song about a superhero or anything resembling one.
However, Rival Sons is such a powerful band that we could argue they may have superpowers after all.
10. Electric Youth – Debbie Gibson
American singer Debbie Gibson described her generation in this song.
She complained about how teenagers were, more often than not, ignored regarding their opinions and beliefs.
11. Electricityscape – The Strokes
Indie rock band The Strokes released this song on their third studio album First Impressions of Earth.
Talking about first impressions, give this song a try if you haven't yet. It's worth doing it.
12. Electricity – Silk City, Dua Lipa
It's said that three's a crowd. However, this song is a clear example of how wrong such a statement is.
The duo Silk City made a fantastic collaboration with this popular singer. A perfect song for driving in your car at Friday midnight.
13. Electric Feel – MGMT
"Shock me like an electric eel" that's the feeling you get when you see someone you find excessively attractive.
You know, that electricity running down your spine. It's the same feeling you get when listening to songs like this one.
14. Electric Chapel – Lady Gaga
Lady Gaga opens this track with some powerful electric guitar chords.
You even forget you're listening to Lady Gaga during the very first 10 seconds of the song. It almost seems like a rock song.
15. Electric Café – Kraftwerk
Electric Café is the track that closes this group's ninth studio album of the same title.
What else can we say? Naming a song after electricity fits so well with a German electro band…
16. Gimme Gimme Shock Treatment – The Ramones
Have you ever got an electrical shock? If you have, you might have noticed that "numb" sensation in the area of your body once you come out of contact with the source of energy.
Well, that's more or less what The Ramones were looking for. Feeling numb after so much thinking.
However, it's always much better to numb pain with music, rather than with a shock treatment. What do you think?
17. Electric Girl – Scandal
From Osaka, Japan comes this bit of a hidden gem made by this feminine pop-rock group.
18. Shock Me – KISS
Lead guitarist Ace Frehley once got an electric shock before a performance that almost ends with his life.
So of course, he did what every artist should do: name a song after the experience.
Cool.
19. Electric Wizard – Electric Wizard
20. Body Electric – Lana del Rey
21. Electric Gypsy – L.A. Guns
22. Static Electricity – King Gizzard & the Lizzard Wizzard
23. Father Electricity – Julian Casablancas+The Voidz
24. Together in Electric Dreams – Philip Oakey & Giorgio Moroder
25. Are We Electric – The Kooks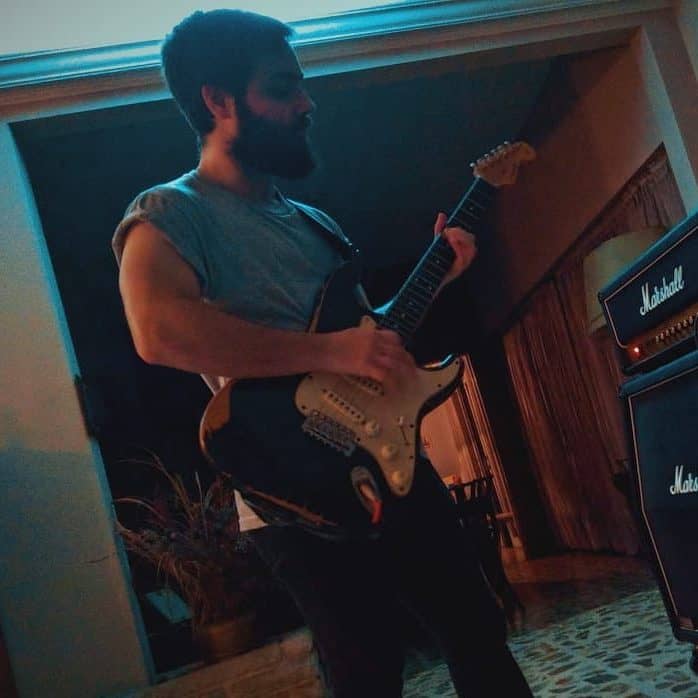 Hello there, my name is Ramiro and I've been playing guitar for almost 20 years. I'm obsessed with everything gear-related and I thought it might be worth sharing it. From guitars, pedals, amps, and synths to studio gear and production tips, I hope you find what I post here useful, and I'll try my best to keep it entertaining also.