We all have some things that make us insecure.
And although coping with it is easier said than done, I think music can help.
Whatever the cause, I'm pretty sure some of these songs will help you make it through the day, and feel a little bit better about yourself.
One step at a time!
Here are 21 great songs about insecurities you should check out.
1. Insecurities – Jess Glynne
British singer Jess Gloyne describes insecurity with sharp accuracy and some emotive metaphors in this track.
2. Wish I Could Be Her – K. Michelle
A bit of love, a bit of jealousy, and of course, a bit of insecurity.
In Wish I Could Be Her we find a desire to be someone else, not because of genuine admiration for the other person, but because the other girl is "stealing" her man.
3. Oh My God – The Pretty Reckless
Singer Taylor Momsen screams about how much she yearns to be someone smarter; someone who does something more important than just singing.
It's a "self-hate" song that connotes nothing but deep insecurities, despite the money, the fame, and the talent. A valuable lesson there, for sure.
4. I Suck – Mark Ronson (feat Rivers Cuomo)
Once again, this song depicts insecurities as a result of a "broken heart".
Seeing the girl you like walking off with a lame guy really says a lot about you, doesn't it?
Of course not! You're better than that!
5. If I'm Insecure – James Blake
Coming off from the fifth studio album Friends That Break Your Heart we find this track that ends James Blake's record.
6. Loser – Beck
The 90s were the best decade for angry, insecure, and downhearted teenagers. The reason is the music!
There were lots of bands and artists who wrote songs that resonated with angry, insecure, and downhearted teenagers. Loser by Beck is one of them.
7. Self Esteem – The Offspring
A punk rock classic that talks about a guy who has little to no low self-esteem at all.
As a result, his girlfriend takes advantage of him and sleeps with his friends.
There's a bit of a masochist treatment in this story, but the lesson is simple: learn to love yourself a bit more, and set healthy boundaries.
8. Stressed Out – Twenty One Pilots
How interesting it is to write a song connecting insecurities with being a musician.
Will my lyrics work? Will I create a unique chord progression?
I do hope that having a 2B views song on Youtube has dissipated every doubt in these people.
9. Down In A Hole – Alice In Chains
This Alice In Chain classic has more to do with drug abuse and depression rather than insecurity.
However, we cannot deny the strong relationship between depression and self-doubt.
"Down in a Hole, Feeling so small." Unfortunately, it seems that one emotion feeds the other.
The version you'll find here is taken from the MTV Unplugged performance.
10. Coffee & TV – Blur
Self-doubt leads to isolation and difficulties in socializing with others.
As shown in Coffee & TV, even when someone tries to break out and fight their insecurities back, there might appear a person who "will hurt you 'cause of who you are."
There's a bit of truth here, unfortunately. Nonetheless, it's worth pointing out that, luckily, there is always a cool person who you can befriend without putting yourself in danger.
So don't despair!
11. You Don't Even Know Who I Am – Patty Loveless
Patty Loveless recorded this song for the 1994 album When Fallen Angels Cry.
Nonetheless, it was written by another country singer called Gretchen Peters.
12. Nowhere Man – The Beatles
Nowhere Man was written by John Lennon as a "bottling-up my emotions" song.
There's yet another valuable lesson in this one: You can have all the money and fame that you want, but you'll still feel rotten deep inside if you don't find inner peace.
13. Guess I'm Dumb – Glen Campbell
Originally thought to be performed by The Beach Boys, Guess I'm Dumb is a song about putting an end to a relationship.
The most insecure parts, however, are more noticed in the very first verse.
14. Crawling – Linkin Park
This example is similar to Alice In Chains' one.
When depression crawls under one's skin, it drowns you with insecurities and self-hatred.
You might see yourself reflecting on these lyrics and not feeling alone for a while. But if this happens to you, remember you are a person worthy of love.
15. My Stupid Mouth – John Mayer
American writer Robert Greene published the best seller "The 48 Laws of Power" in 1998.
One of these laws is to "always say less than necessary."
It seems that John Mayer learned the lesson the hard way.
16. Don't Let Me Get Me – P!nk
M!ssundaztood is the singer's second studio album. It contains the song Don't Let Me Get Me, which has a kind of "I hate myself and the rest is better than me" theme.
As most people say, our worst enemies are just ourselves.
17. Creep – Radiohead
Arguably, the #1 anthem of deep insecurity and lack of self-love.
Creep is not just a sad song about someone who feels that belongs nowhere; it's also the most famous Radiohead song.
18. Different World – Iron Maiden
Different World deals with a very specific sense of insecurity.
It's not related to doubts regarding one's capacity, but rather to uncertainty toward the future.
It's common to reach a goal just to find out it was not what we were needing.
If you happen to feel that way, then this song may help out.
19. Oh No! (I Feel Like I'm The Worst So I Always Act Like I'm The Best) – Marina & The Diamonds
Yeah… the title just says it all…
Do you believe that "fake it till you make it" works?
20. Things I'll Never Say – Avril Lavigne
Avril Lavigne sings about that moment when you meet your crush but you are so insecure that you cannot say the things you want to say.
21. Insecure – Sauti Sol
Last song on the list is Insecure by Kenyan band Sauti Sol.
The focus of the lyrics is on a couple in which both sides connote insecurities.
As usual, being in an intimate relationship is to show both our best and worst sides simultaneously.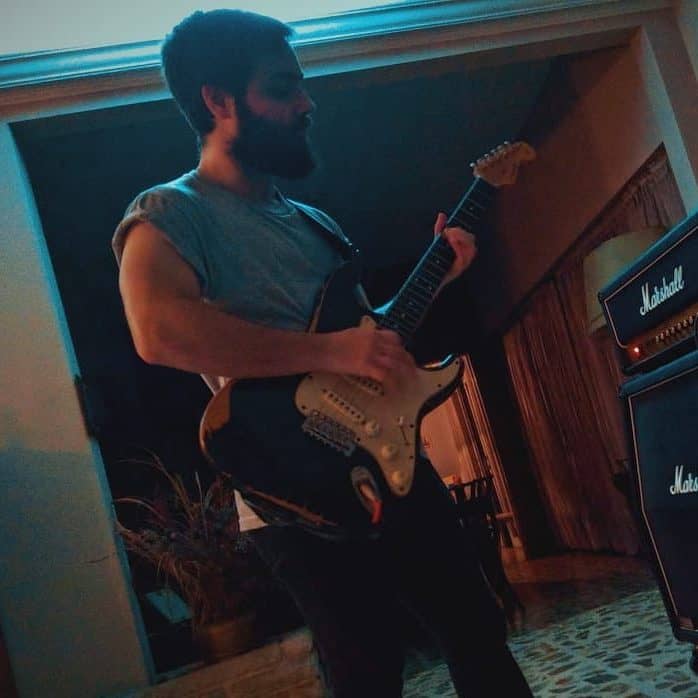 Hello there, my name is Ramiro and I've been playing guitar for almost 20 years. I'm obsessed with everything gear-related and I thought it might be worth sharing it. From guitars, pedals, amps, and synths to studio gear and production tips, I hope you find what I post here useful, and I'll try my best to keep it entertaining also.