Sometimes musicians only have one good song in them, or circumstances make it so that they only last as long as their first song.
Some bands have a lot of good music but only ever make it to mainstream for a single moment.
This list is all about those one-hit wonders of the world, specifically those from the 2000s.
1. Absolutely (Story of A Girl) – Nine Days
Opening up with a punk rock song if you were a kid in the early 2000s you were probably singing this song on the playground without even knowing the meaning of the lyrics.
This song was so popular, that I just knew the song but never considered the band, and I suppose many did the same because Nine Days were never as big again.
2. Why Can't I – Liz Phair
This song was made popular by two things, firstly it was part of the soundtrack for 13 going on 30, and second, it managed to achieve that radio hit sound that a lot of songs still strive for today. The chorus is what everyone remembers.
Sadly for Liz Phair, they never achieved a song that reached as high as this one did again.
3. Flavor of the Weak – American Hi-Fi
American Hi-Fi was pretty big in the 2000s for a hard rock band. I don't think you could really call them metal, considering the metal of today is comparatively heavier.
That aside, everyone knows this song if you grew up in the 2000s
4. Who Let the Dogs Out – Baha Men
Does this song even need an introduction or description? If you don't know Who Let the Dogs Out, then you were living under a rock during the 2000s.
Its genre is called Bahamian junkanoo, and was originally written by Anslem Douglas, titled "Doggie". Bet you didn't know that!
5. According to You – Orianthi
Anyone who knows of Orianthi (yes, that's her birth name) knows of her shredding skills and her features in some Michael Jackson songs.
But before she was a guest guitar player, she wrote and sang her own song.
It's not half bad and her vocals are pretty decent too, but it was her only real hit as a single musician back in the 2000s.
6. Wherever You Will Go – The Calling
Man, this was my teenager-wannabe heartthrob song.
Where you Will Go was The Calling's biggest song and you're unlikely to be able to recall any of their other songs, despite the fact that they featured a lot of background music in movies throughout the 2000s.
They never achieved as much popularity as other songs though and that makes them "one-hit wonders".
7. Laffy Taffy – D4L
What a weird but catchy song. Laffy Taffy is a slang word for Labia Minora, so you could call this song the spiritual predecessor to Cardi B's WAP.
At least it's not as on the nose about the content and manages to be a fun song most of all, even if the topic is vulgar.
D4L faded into obscurity soon after this song though.
8. Bulletproof – La Roux
Bulletproof saw only a brief moment of the spotlight back in its release, but it was dead center in it when it did.
Thanks to some Tik Tokers using it, it's seen a resurgence in popularity in more recent days, but few people remember the name, La Roux.
9. All the Things She Said – t.a.T.u
This duo of Russian girls literally only ever released two songs, and to be fair, both were huge when they were released. So technically they're a two-hit wonder.
All The Things She Said was one of those songs you could say was the spirit of the early two thousand: dark, angsty, and melodramatic.
10. Right Now – SR-71
Right Now was the song that every early 2000s comedy used as its soundtrack.
SR-71 never really stuck around at the top of the charts much after that, although, you will find that they did continue to make music.
It was also the debut single of the band from their debut album, so I guess you could attribute the success to them being the flavor of the week.
It remained in the top 10 on the Billboard Modern Rock tracks chart for 11 consecutive weeks and became the band's biggest hit, which is what led to many critics labeling the band as a one-hit-wonder.
11. I Believe In A Thing Called Love – The Darkness
If you know this song you know this song intimately.
Filled with awesome guitar, crazy high vocals, and catchy music overall.
This song shot to the top of the charts, but you won't find The Darkness songs much after it, at least they gave us one really cool and whacky hit.
12. New Soul – Yael Naim
This song became popular because of Apple ads, and if you're like many people from the early 2000s, you probably downloaded it illegally.
That's okay, you can listen to it for free on Spotify now anyway.
It's probably one of my favorite songs on this list though, because of how clear and catchy it is, while remaining simple in its makeup.
13. 1985 – Bowling For Soup
While you can't say Bowling for Soup wasn't a popular band, it's definitely true that few people can recall any song other than 1985.
Go ahead, I'll give you a second to try…
It's only the die-hard fans of theirs that know all their stuff, while the rest of us know of this one radio hit.
Which makes them a one-hit wonder by definition.
14. Teenage Dirtbag – Wheatus
Teenage dirtbag was one of those songs from the early 2000s that teenagers would listen to endlessly and relate to the most.
I know because I was one of those teens seeing myself as a teenage dirtbag, wishing I could get the girl.
It's a bit of a romantic fantasy song, but it's just about the only song you'll remember from Wheatus unless you were a die-hard fan.
15. Crush – David Archuleta
David Archuletta wrote this song shortly after his appearance on American Idol and while he still makes music today, this was possibly the biggest song he's ever released.
He hasn't had really any hits since, and I guess you could say that's often the fate for many American Idol singers these days.
They burn bright and fade out really fast.
16. Stacy's Mom – Fountains of Wayne
Stacy's Mom is probably the song responsible for so many young men's fantasies today.
It's about a young boy who has a friend from school who likes him, but he's not into her, rather he has a thing for her mom.
Hence the title.
This was the band's biggest song and they didn't have any other really big hits aside from this one song and they stopped making music after 2011.
17. You're Beautiful – James Blunt
James Blunt is probably not what you'd consider a one-hit wonder, but think about it, how many other songs of his do you hear on the radio today?
The guy just faded into obscurity as gently as he appeared.
He still sings and makes a lot of good music, but he has been set aside for the new pop stars.
However, back around the release of his debut hit, you could hear this song on everything that received a radio signal.
18. Bad Day – Daniel Powter
Another good 2000s song, albeit a depressingly truthful one.
"Bad Day" was just about the only song I ever heard from Daniel Powter, and like a lot of the other artists here, I didn't even know his name until I found the song online in a google search.
He was never able to produce another major hit and never topped the US hot 100 again after this song.
This isn't too bad when you think about it, considering a lot of bands and performers never do.
19. Crazy – Gnarls Barkley
Gnarls Barkley was the acting name for Cee Lo Green and Danger Mouse when they collaborated and while they produced a lot of chart toppers and individuals, they never made many songs together under this name.
Crazy is still played today and you recognize it the moment you hear it.
20. Pop, Lock, and Drop It – Huey
This was one of those early 2000s hip hops "teach me a new dance move" songs.
Similar to chicken noodle soup and Stanky leg. Pop, Lock, Drop It was something a lot of girls destroyed their knees to, but you can't deny it's catchy.
21. Girlfight – Brooke Valentine
22. Collide – Howie Day
23. The Boys of Summer – The Ataris
24. Turn Me On – Kevin Lyttle
25. Pieces of Me – Ashlee Simpson
26. Move Ya Body – Nina Sky
27. Lean Back – Terror Squad
28. Such Great Heights – Postal Service
29. Butterfly – Crazy Town
30. Bleeding Love – Leona Lewis
31. Such Great Heights – The Postal Service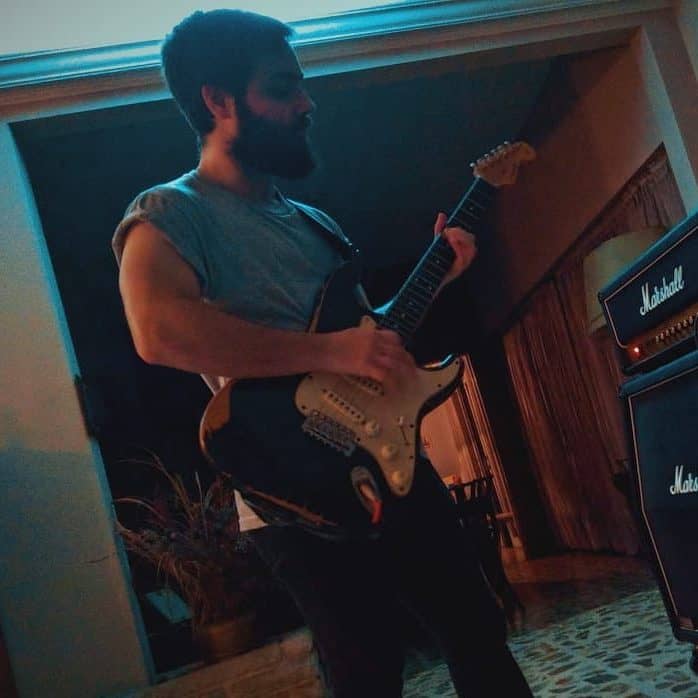 Hello there, my name is Ramiro and I've been playing guitar for almost 20 years. I'm obsessed with everything gear-related and I thought it might be worth sharing it. From guitars, pedals, amps, and synths to studio gear and production tips, I hope you find what I post here useful, and I'll try my best to keep it entertaining also.