Are you a beginner guitarist looking to master the instrument and play your favorite songs with ease?
Or perhaps you're a seasoned player seeking some stripped-down musical gems?
Look no further, as we present to you our carefully curated selection of the 17 Best 2-Chord Guitar Songs!
Incredibly, just two simple chords can unlock a world of musical possibilities.
From infectious pop hits to classic rock anthems, we have compiled a diverse range of songs that prove you don't need complex chord progressions to create captivating music.
Whether you intend to impress your friends at a campfire gathering or simply want to expand your repertoire, this article will guide you through the amazing world of two-chord songs.
So grab your guitar, tune those strings, and get ready to strum along with these delightful tunes!
1. Something In The Way – Nirvana
Topping this list, we have a reflective song that evokes a gloomy atmosphere.
Released in 1991 as part of their acclaimed album Nevermind, this track is a simple piece for beginner guitar players.
Although the studio version is in Drop C tuning, you can quickly adapt it to standard tuning.
The song consists of playing just Em and C, but to get even a lower tone, more similar to the original, you can add a G to the second chord (C/G).
2. 505 – Arctic Monkeys
From their second studio album, Favourite Worst Nightmare, this song is probably the easiest Arctic Monkeys track to play on guitar.
Released in 2007, it comprises two minor chords and two simple-picked sections.
Is made of Em and Dm changing their shapes in some sections, but in the end, you can play them as you wish.
If you are just starting out playing guitar, this track would be perfect for you.
3. Jane Says – Jane's Addiction
Released in 1988 and included in both albums Nothing's Shocking and Kettle Whistle, we have this simple song played on acoustic guitar.
This is one of the best-known tracks by this band, and you can master it just by practicing for a while.
A G chord, an A chord, some uncomplicated fills, and that's it! Plus, you can leave out the fills to sing along, and it still sounds great!
4. Eleanor Rigby – The Beatles
You won't believe it, but his timeless classic is also made of only two chords.
Eleanor Rigby was released in 1966 and took part in the album Revolver.
Although you may think it consists of more notes, they are actually variations or embellishments of the same chord.
However, you can play it just by playing Em and C.
5. Break On Through (To The Other Side) – The Doors
Released in 1967 on the self-titled album by The Doors, this song is very fun to play.
The intro and verse include a bluesy riff in the key of Em and conclude with a strummed D chord.
This leads to the chorus, made of another riff as powerful as easy to play.
Anyway, you can try playing it by purely strumming the chords, and it sounds amazing as well.
6. Born In The USA – Bruce Springsteen
This track gives name to the 1984 Bruce Springsteen album and is a staple song for Americans.
To play it on guitar, you just need to start with a B chord and then move to an open D chord.
Besides, you can pluck the intro originally played with keyboards to present the song and call attention!
In addition, you could play power chords and change chord shapes to add variations to the track.
7. Stop Whispering – Radiohead
Featured on their debut album Pablo Honey released in 1993, this track is an alternative rock song with happy vibes.
This early Radiohead gem presents a bright arpeggio in the intro and during the whole track.
The progression is repeated til the end of it, playing an open D chord and a G.
Simply put: One of the easiest songs by the band and a must-know for acoustic guitar players.
8. Paperback Writer – The Beatles
Released as a single in 1966 and later included on the album Revolver, this track is a catchy and upbeat rock song known worldwide.
To play it you start with a simple picked intro, transitioning to the verse which consists of a G then moves to a C chord and goes back to G.
Then the intro is played again and is followed by the same chord progression but the song has no more than that. As you see, a simple tune to learn straight away.
9. A Horse With No Name – America
This song gives name to America's fourth studio album.
Released in 1975, this folk song uses standard tuning and a chord progression including Em and D.
During the whole track, the order of chords is the same but it adds some variations to the notes such as sixths and ninths.
However, it can be easily played by strumming the full Em and D chords.
10. Achy Breaky Heart – Billy Ray Cyrus
This country-pop hit features easy-to-play chords, making it a favorite among beginner guitarists.
Release in 1992 and included in the album Some Gave All, the song uses standard tuning and masters the chords of A and E.
What makes the track easy is its strumming pattern which is really simple.
You can give it a try and sing along to it to impress your friends.
11. Heroin – The Velvet Underground
12. Dance The Night Away – The Mavericks
13. Fallin' – Alicia Keys
14. Blurred Lines – Robin Thicke
15. Unknown Legend – Neil Young
16. Moves Like Jagger – Maroon 5
17. Solitude – Black Sabbath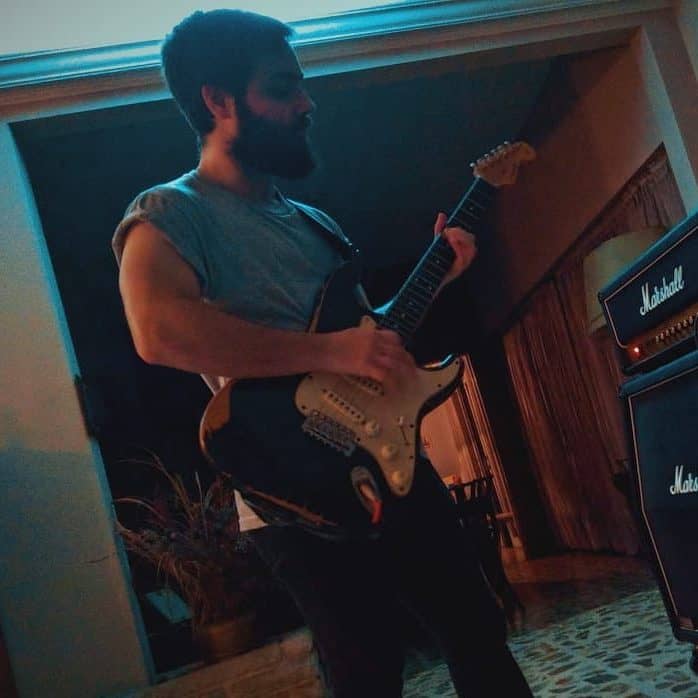 Hello there, my name is Ramiro and I've been playing guitar for almost 20 years. I'm obsessed with everything gear-related and I thought it might be worth sharing it. From guitars, pedals, amps, and synths to studio gear and production tips, I hope you find what I post here useful, and I'll try my best to keep it entertaining also.