Most people would claim that cars were designed to move from one place to another.
While this might seem quite logical, I strongly believe there's another reason cars were invented: to have a safe space to sing.
It's not uncommon to find people struggling to sing without feeling ashamed.
The solution, then, is to find someplace where no one else can hear your ear-bleeding shrieks. What best place than your own car, then?
You have a stereo, and it's tightly sealed to avoid strangers hearing you.
With this idea in mind, we want to share 19 songs to scream in your car and enjoy life.
It doesn't matter whether you know how to sing or not. Just go and do it!
1. Sabotage – Beastie Boys
A bit of rap and a bit of rock.
Its popularity has been so huge that it has appeared in movies, TV series, and video games.
We hope it appears in your driving playlist too!
2. Bohemian Rhapsody – Queen
You can sing this song from beginning to end. It doesn't matter if you're running out of air.
You will, somehow, gain enough to scream the opera section as loud as you can.
No one can help but sing the "Oh mama mia, mama mia" part whenever it comes.
And if you don't feel comfortable enough, then it's because you have never watched Wayne's World.
3. What's Up – 4 Non Blondes
A radio hit that reached the top of the list in countries such as Ireland, Germany, Switzerland, and Chile.
The bad news is that you'll need to be a fantastic singer to reach the higher notes Linda Perry does.
The good news is that your car is a safe space, and you're free to sing it the way you please, no matter how bad it sounds.
4. Na Na Na (Na Na Na Na Na Na Na Na Na) – My Chemical Romance
You don't need to know the lyrics of this song to scream it out loud.
Just learn the melody and repeat the "NA NA NA"s until the song ends. Then play the song again, and repeat the process.
5. Troy, Gabriella – Breaking Free (From "High School Musical")
Don't lie.
I know you're dying to scream this one out with your best friend.
Let the nostalgia take your heart, you'll love it.
6. Hot N' Cold – Katy Perry
Katy Perry has dozens of pop songs that are made to scream the lungs out on your car.
Although Hot N' Cold is, without a shadow of a doubt, a worthy selection, feel free to add any other Katy Perry song you like.
7. Smells Like Teen Spirit – Nirvana
Arguably the most famous rock song from the 90s.
It has such a vigorous chorus that you won't dare stop your car until the song's over.
8. The Passenger – Iggy Pop
The title says it all.
Just be the passenger, enjoying the view through your car's window.
Oh, sure, just until the chorus arrives and you get distracted screaming the "LA-LA-LA-LA-LA-LA-LA-LA"s until your throat hurts.
9. Judas – Lady Gaga
You don't have to be in love with a bad boy to sing this one out.
What am I saying? You don't even need a car, to begin with!
10. I Write Sins Not Tragedies – Panic! At the Disco
There's a reason this song has 370M+ views on Youtube.
11. Kickstart My Heart – Mötley Crüe
Bassist Nikki Sixx wrote it after a life-changing experience.
He passed away after an overdose of heroin. Luckily, he was given two adrenaline injections in his heart and was brought back to life.
If this song doesn't kickstart your heart then nothing will.
A word of warning though, listening to this song and driving at the same time is a recipe for speed tickets, so watch out!
12. Before I Forget – Slipknot
It's about time to spice things up a bit.
Screaming in your car is not always a matter of having fun.
Sometimes, you might be mad at a situation: your boss was mean to you, your crush is dating your best friend, you can barely pay rent this month, etc.
In those days, it's healthy to vent your anger.
Just blast this song out until you feel a bit more refreshed.
13. Sweet Home Alabama – Lynyrd Skynyrd
Even if you don't know this band, you know the song.
Come on, even if you've never been to Alabama you're still dying to sing this one.
14. Fortunate Son – Creedence Clearwater Revival
This song became somehow of a meme, so we could say it's a song to scream in your helicopter, rather than in your car.
Oh, well. Who's got a helicopter anyway?
Stick to your car instead.
15. What Makes You Beautiful – One Direction
The debut single from this band could not be left off the list.
After all, it became one of the greatest pop hits from the 2010s decade.
The whole song is catchy, but the strong point is its chorus.
Whether One Direction was thinking about driving when writing this song or not, we can't tell.
But of course, that doesn't stop us from mentioning it here.
16. Jumpin' Jack Flash – The Rolling Stones
Picture the following situation.
You just had the wildest weekend you could have ever experienced in Las Vegas.
You get inside your car and hit the road back home with the heaviest hangover possible.
You need a song to keep your flame alive and your spirit running.
If you watched "Fear & Loathin' In Las Vegas" then you already know this one's the song for your trip.
17. Show Me How To Live – Audioslave
I'm not endorsing misdemeanors with what I'm about to say, but if you ever happen to be chased by the police, make sure this one's the song that blasts through the speaker.
Don't blame me! Blame the music video!
18. Livin' On a Prayer – Bon Jovi
An 80s classic that still holds up to this day.
19. Rock And Roll All Nite – KISS
Next Halloween, gather with four friends, get your face painted as one of the KISS's members each, and sing this song until your lungs explode!
Naturally, it has one of the most memorable choruses in the world of Rock music, which means that this song was made for singing out loud since day one.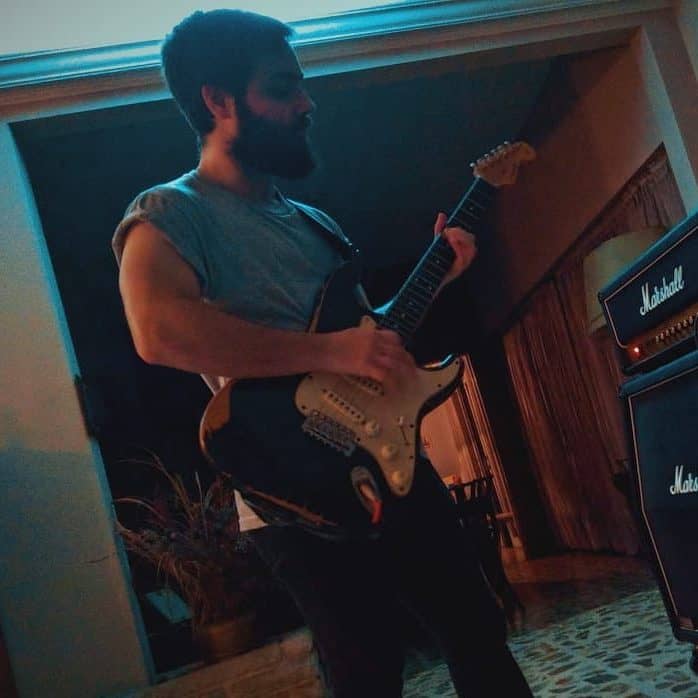 Hello there, my name is Ramiro and I've been playing guitar for almost 20 years. I'm obsessed with everything gear-related and I thought it might be worth sharing it. From guitars, pedals, amps, and synths to studio gear and production tips, I hope you find what I post here useful, and I'll try my best to keep it entertaining also.