Among the most spoken languages of the world, we find Spanish just after English, Chinese, and Hindi.
So, it makes sense that Spanish-speaking artists become famous for their songs.
Latin America has a great musical influence, mainly in urban styles and dance music.
Even English-speaking singers are currently using Spanish terms in their songs.
That's why we bring you a list of 17 great songs in Spanish!
I bet you know most of them but let me tell you that you may be surprised!
Every song had a great impact at its time so we provide you a short description plus relevant facts for each one.
1. Macarena – Los Del Rio
This song is a single released in 1993 by the Spanish Duo Los Del Rio and is part of the album A mí me gusta.
Macarena is a cover version adapted by the members of the duo and reached the top of song rankings during the 90s.
Although Los Del Rio didn't create the original song, they were the ones who launched Macarena to success, being an international hit between 1994 and 1996.
Nowadays is still considered a cult song that cannot miss at any party.
Macarena is ranked #1 on Billboard's Latin Songs of all time chart.
It is also #1 on Billboard's Dance Songs chart.
The song is also remembered for its particular dance choreography.
2. Vente Pa'Ca – Ricky Martin Ft. Maluma
By the year 2016, Ricky Martin was already known worldwide and Maluma had become mainstream so you can picture the strong impact of this song.
The single Vente Pa'Ca was very well received by the Latin public and Spanish-speaking countries so much so that it topped the charts in Argentina, Chile, Colombia, Dominican Republic, Ecuador, and even Spain among others.
Vente Pa Ca' was nominated for 10 music awards between 2016 and 2017 and won a prize for Best Pop Song of the Year.
3. Obsesion – Aventura
Obsesion is a bachata song by the group Aventura released in August 2002 and is part of the album We Broke the Rules.
The lyrics were written by a young Romeo Santos and the song is about a grown man who is obsessed with an underage girl that is dating someone else.
The girl feels stalked and constantly rejects the man, saying that he is not in love, he is just obsessed.
However, the man doesn't care and keeps on insisting.
In the year 2002, Obsesion was number 1 in Italy for 16 consecutive weeks.
4. La Bamba – Ritchie Valens
La Bamba is a Mexican traditional song but its author is unknown, its music style is known as Son Jarocho and is a popular anthem in Veracruz.
It is thought that during the 50s the famous composer Andres Huesca was who made known this song.
However, the most popular version was made by Ritchie Valens in the year 1958.
Nowadays is one of the most famous songs in Spanish of all time.
It was the first song in Spanish that reached the top position on the Billboard Hot 100, in 1987, performed by Los Lobos.
There's a rumor out there which says that Twist & Shout was inspired by Latin Rock chord progressions and La Bamba is the best example. Some people claim that it is plagiarism rather than an inspiration due to its strong resemblance
5. Vivir Mi Vida – Marc Anthony
This song kicks off the album 3.0 released in 2013 and recorded by singer-songwriter Marc Anthony.
However, Vivir Mi Vida is a cover, the original version is called C'est La Vie by the Algerian singer Khaled.
The album was very famous at that time, selling more than 300,000 copies and going gold in Spain.
6. La Camisa Negra – Juanes
The acclaimed Colombian composer Juanes made a strong impact in European countries with this song which is part of the album Mi Sangre.
Despite being non-Spanish-speaking countries, La Camisa Negra was a big hit in Germany, France, Austria, and Bulgaria.
In Italy it caused great controversy since it was thought that the song alluded to the blackshirts of Benito Mussolini but the singer denied it, explaining that the song is about a toxic relationship.
7. Despacito – Luis Fonsi Ft. Daddy Yankee
In January 2017, Luis Fonsi released this collaboration with Daddy Yankee, and the song was on everyone's lips due to its catchy lyrics and rhythm.
However, the song raised its importance some months later when Justin Bieber released a remix version, taking the song to the top of the charts in numerous countries.
Although Despacito was released in 2017, is part of the album Vida from the year 2019.
It is a reggaeton and Latin pop song that combines urban Latin rhythms.
The song topped the charts in more than 40 countries and reached the top 10 in six others.
It has received five Latin Grammy Awards, including Song of the Year and Best Music Video.
It was the most viewed YouTube video of all time from August 2017 to November 2020.
8. Gasolina – Daddy Yankee
Nowadays we all know Daddy Yankee but back in time when he was just giving their first steps in his musical career, he gave life to the song that made reggaeton famous.
Gasolina was recorded in 2002 but released in 2004 in the album Barrio Fino and as explained, is considered one of the most representative and played songs in reggaeton history.
Gasolina was the song that made reggaeton known in Europe.
It was the most-listened reggaeton song of 2006 in the United States.
9. La Incondicional – Luis Miguel
Written by Juan Luis Calderon and played by the Puerto Rican-Mexican singer Luis Miguel, La Incondicional takes part in the studio album Busca Una Mujer.
The song was released in 1989 and its success brought the album to #4 on Billboard Latin Pop with sales of approximately three million units.
10. Bailando – Enrique Iglesias
The Cuban musician Descemer Bueno wrote this catchy, danceable song and interpreted it alongside the group Gente de Zona.
However, Bailando became popular because the famous singer Enrique Iglesias joined them to sing it.
Something curious about this song is that it has six different video clips recorded in Cuba, Dominican Republic, and Portugal.
As with many pieces in the list, it was an international hit reaching the top rankings in Spanish-speaking countries and Europe as well.
11. Rayando el Sol – Maná
12. Oye Como Va – Santana
13. Danza Kuduro – Don Omar Ft. Lucenzo
14. La Tortura – Shakira Ft. Alejandro Sanz
15. Amigo – Roberto Carlos
16. La Vida Es Un Carnaval – Celia Cruz
17. Propuesta Indecente – Romeo Santos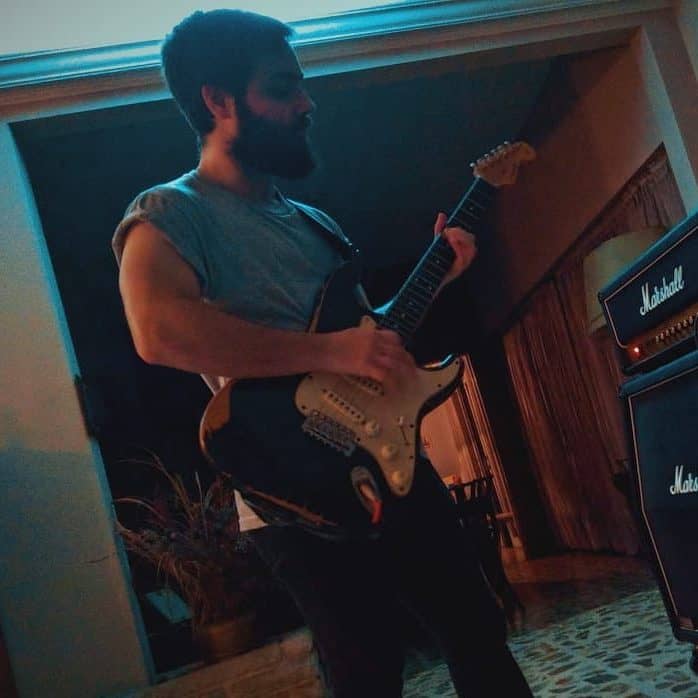 Hello there, my name is Ramiro and I've been playing guitar for almost 20 years. I'm obsessed with everything gear-related and I thought it might be worth sharing it. From guitars, pedals, amps, and synths to studio gear and production tips, I hope you find what I post here useful, and I'll try my best to keep it entertaining also.