Florida really does get a bad rap in both the national and international communities.
From wildlife to bath salts, there's always something going on in Florida.
That said, it isn't all bad.
The weather can be nice when there are no hurricanes, and sandy beaches usually mean some good-looking people as well.
Tampa, being on the west coast, is more protected from said hurricanes but still enjoys the perks of white sandy beaches.
Here are a few songs highlighting people's thoughts about Tampa:
1. Going to Tampa – Ry Cooder
Starting with a Tampa appreciation song, Ry Cooder sings about leaving home for Tampa.
There's an air of political charge in the song, mentioning Palin and Jim Crowe by name as champions to appreciate, so you get a general understanding of the type of person Mr. Cooder is.
2. Talk Me out of Tampa – Joe Nichols
This song's an interesting one.
It's a slow country tune that has our protagonist set on flying to Tampa but lists a bunch of reasons why he shouldn't go there, followed by the request to be talked out of flying to Tampa.
Really can't decide if this is a "Tampa is so good I'll go no matter what" song or a "here are a bunch of reasons not to go to Tampa" song.
I leave the decision up to you.
3. Tampa Bay Bustdown – Yung Gravy ft. Chief Keef & Y2K
Coming after the success of Lil' Nas X's country music, Tampa Bay Bustdown sounds even more country.
It talks about fishing for someone else's girl and truly toes the line between hip hop's sex, drugs, and nice cars lineup and the smooth, laidback style of country music.
Put that all together with a southern twang in Yung Gravy's voice and you've got yourself a Tampa tune.
4. Tampa Bay Blues – Jerry Axson
Jerry Axson not only sings about having Tampa Bay Blues, but he goes a step further with some similarities between his girl and the wildlife there in Tampa.
She "circles his bed like a Mako shark" is one of the greatest lines I have ever heard and I can't decide if her circling means he's in trouble because of her attacking or if she's circling and simply won't come to bed.
I truly don't know and that mystery should give you all the excitement this very slow song needs.
5. Bus To Tampa – Tom Petty
This light tune very much embodies the story it's telling as it plays.
Petty sings about being on his way to Tampa and not much caring where he's coming from, all while the melody plays behind him in a song that sounds exactly like being on the road.
Not exactly a Tampa appreciation song, but hey he's headed that way.
6. Tampa – Cult of Sue Todd
This song is less than two minutes long and features a fast-paced surfer guitar ensemble telling a story about a guy and girl who hit the road.
The only time Tampa is mentioned is when she allegedly says she wants to go there and is shut down because "what the f… is in Tampa?".
And tell me, what is in Tampa?
7. Tampa – Mark Bario's Band
Mark Bario is a Tampa native so he wrote a song about the place near and dear to him.
The lyrics are relatively appreciative but it's the music that stands out more so, as the band seems to have a similar sound to Santana.
I don't know who Mark Bario is, but their band makes some nice sounds.
8. Going Down To Tampa – Dan Zanes and Friends
What starts as a simple string tune about settling down in Tampa slowly builds into a slightly more complicated tune about…settling down in Tampa.
But in the song's simplicity, there is an appreciation for the city and also what sounds like a tuba in the background, which makes this song unique in its own right.
9. Tampa Bound – Blind Blake
This very well may have been the first song about going back somewhere to find a girl.
This song is almost 100 years old (it was recorded in 1926) and Blink Blake is actually Blind.
That's how old this song is, the nicknames were literal.
The song is everything you'd expect from a song at that time, which isn't good or bad, just a simple song about heading to Tampa.
10. Tampa Bay Worksong – Rebel Pride
This song plays like Tom Petty's song but if the bus was roaring down the highway at 75mph.
If you don't feel like you're on your way to work on a sunny day in Tampa while there's no traffic on the road then I'm not sure what to tell you.
Revel Pride really nailed the tone of their song here and there are a few things to say about Tampa in the song as well. Very well done.
11. Ladies of Tampa – Matthew McConaughey
While this barely counts as a song, a shirtless Matthew McConaughey sings it to the ladies of Tampa in Magic Mike, so naturally, it had to make the list.
The only thing about Tampa in the song is the fact that they're in Tampa singing it, but that's a more than good enough reason to give you the URL for it.
You're welcome.
In Conclusion
Tampa is a place not many people have things to say about.
People seem to either be headed to Tampa or leaving it.
The few who are actually there while singing their songs don't really have much to say about the city either, which really begs the question, "what the f… is in Tampa?"
But if you're rolling down the road in or around the city, you can rest easy knowing there are songs here about exactly what you're doing.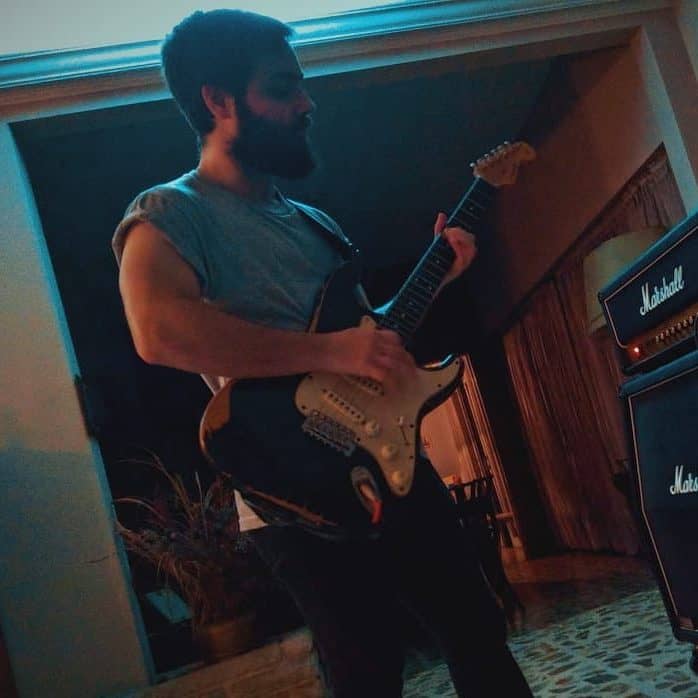 Hello there, my name is Ramiro and I've been playing guitar for almost 20 years. I'm obsessed with everything gear-related and I thought it might be worth sharing it. From guitars, pedals, amps, and synths to studio gear and production tips, I hope you find what I post here useful, and I'll try my best to keep it entertaining also.