Imagine you are at a meeting with friends and one of them brings a guitar, as a guitar player you can't hold back your desire to play so you immediately take the instrument.
At the time of playing everyone's eyes are on you but you can't remember any song to play!
Have you ever been through that embarrassing situation?
It's pretty common for beginner or intermediate guitarists but you don't have to worry, we have a perfect solution.
Here at GearAficionado, we intend to help you that's why we'll give you a bunch of popular songs with amazing guitar riffs that sound great plus are instantly recognizable.
Next, you will have a list of riffs that you can learn just in a while. Most of them are well-known and simple picked intros that cover most sections of the songs, so you will be able to learn the whole piece quickly.
By learning these wonderful riffs you will impress your friends at parties and will enlarge your mental song gallery plus they cover many genres and different tunings.
Besides, you will be given links to the song, lesson, and tabs as well.
1. Do I Wanna Know? – Arctic Monkeys
To begin with, we have a slow, mellow song that up to this point everyone has listened to.
As there are loads of Arctic Monkeys fanatics out there, this is a nice riff to learn and captivate the audience's attention plus you won't even have to sing it because everyone knows its lyrics!
This riff is in the G minor key and sounds as great in acoustic guitar as an electric, you just need to stick to the tempo and respect the silent parts.
This song has no chords, only two different picked sections that are easily played with hammer-ons, try out this piece and you will see you could play it in less than five minutes.
Here's a lesson:
2. Black Night – Deep Purple
To continue, there's a famous Deep Purple song that has a catchy pentatonic riff that sticks in your head once you hear it.
To play this intro you only need two fingers, some hammer-ons, and pull-offs plus a good rhythm.
Composed using A major key, this melodic line is played throughout most of the song so once you learn you can cover almost the whole piece.
In addition, Black Night is a great Deep Purple alternative to combine with the iconic Smoke On The Water riff.
Here's a lesson:
3. Day Tripper – The Beatles
Classics are classics so we cannot leave aside this legendary song by The Beatles, once you play the first notes everyone in the room will recognize the song and will turn back at you.
Although it presents some variations, this riff appears in almost the entire piece.
I assure you that you will master this intro after a couple of times playing it.
You just have to learn one main line played on the low E string and then play it starting on the fifth string.
Here's a lesson:
4. Dragon Attack – Queen
If you are tired of always listening to the same Queen songs like Another One Bites The Dust or Crazy Little Thing Called Love you can try to learn the riff of this song, that although it is not very well known, Queen's fanatics will love it.
As with most of the songs in this list, the riff is the main part of the song so when you get the hang of it you will know 90% of the piece.
Written in D minor key, you only have to play the minor pentatonic using alternate picking.
Besides, it won't take you more than some minutes to master this riff plus only two fingers are needed to play it!
Here's a lesson:
5. Pumped Up Kicks – Foster The People
Pumped Up Kicks is probably the most popular song from this group, what is more, is quite easy and sounds wonderful.
At the time you play the first notes you will have a group of people singing it to your surroundings.
The piece consists of a sweet line composed in F minor that you can play straight away without the need of moving your fretting hand alongside the guitar neck.
Moreover, the palm mute gives a nice warm tone to the song.
Here's a lesson:
6. Seven Nation Army – The White Stripes
When talking about riffs you can instantly play we cannot omit this iconic intro famous by The White Stripes.
Although many people think that is a bass line, Jack White plays it on guitar using an octave effect, that's why sounds so low.
The interesting thing is that the whole song involves a line composed in E minor and played just on a single string but is as simple as amazing.
The solo changes a bit but is still similar to the leitmotiv, try out this fantastic song and you will learn it in less than a minute!
Here's a lesson:
7. Slither – Velvet Revolver
In this position, we have a drop D song that has a killer hard rock riff perfect to play on electric guitar but that it also sounds amazing on acoustic.
Using D minor as a key, this groundbreaking line involves playing power chords alternating the sixth open string.
Due to its speed could be a bit difficult to get the precise rhythm but once you get used to it, you can't stop playing the riff.
It is a good practice for chords in drop D tuning, slides, and hammer-ons as well.
Here's a lesson:
8. Crazy Train – Ozzy Osbourne
Here we have another classic, the legend Randy Rhoads created this outstanding riff that has become an icon of heavy metal.
Despite being known for his complex and speedy solos, Rhoads made this simple line for the intro of the song, it only involves alternately playing the lowest strings of the guitar.
This song is composed in the key of A major but the intro is written using F# minor, its relative key. No more to say, an incredible riff, easy to play and learn.
Here's a lesson:
9. Iron Man – Black Sabbath
Coming to the end we have an emblem of heavy metal, if we have mentioned Ozzy Osbourne as a soloist we could not forget the band that made him famous.
Iron Man might be the best-known riff of Black Sabbath and the interesting thing is that it is played during most of the piece.
Despite going through different keys, the main riff of the song sounds pretty dark and gloomy because it focuses on resolving to E minor key, at first it is played with power chords but then becomes a picked section.
If you are a metal player, this groundbreaking line must definitely be in your riff gallery.
Here's a lesson:
10. Killing In The Name – Rage Against The Machine
Last but not least, we have another piece in D drop tuning, in this case, the most popular Rage Against The Machine song.
As in many of their songs, Killing In The Name is done by repeating an aggressive riff during the verses and another even more violent in the chorus.
As mentioned before, you will have to tune your lower string in D to get that low hard sound.
Combining hammer-ons and the open sixth string you will learn this riff easily plus you can make the audience jump incessantly and shout out the refrains.
Here's a lesson: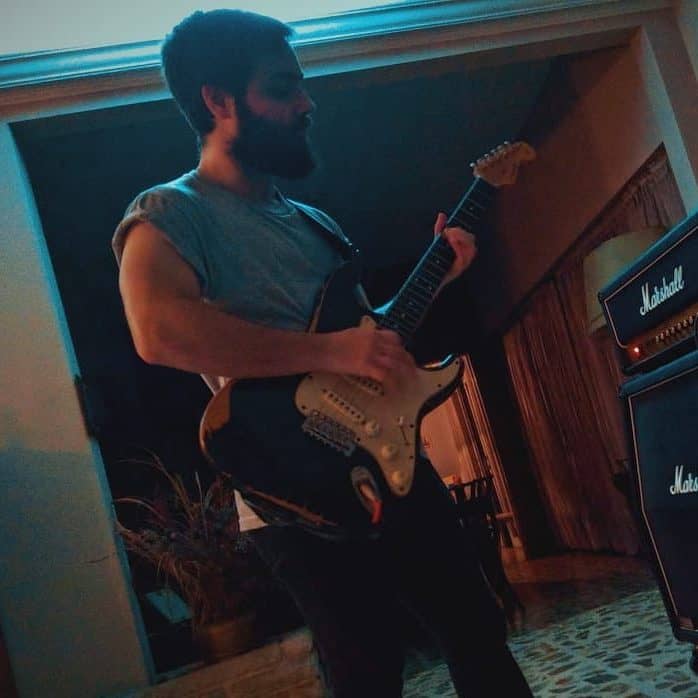 Hello there, my name is Ramiro and I've been playing guitar for almost 20 years. I'm obsessed with everything gear-related and I thought it might be worth sharing it. From guitars, pedals, amps, and synths to studio gear and production tips, I hope you find what I post here useful, and I'll try my best to keep it entertaining also.